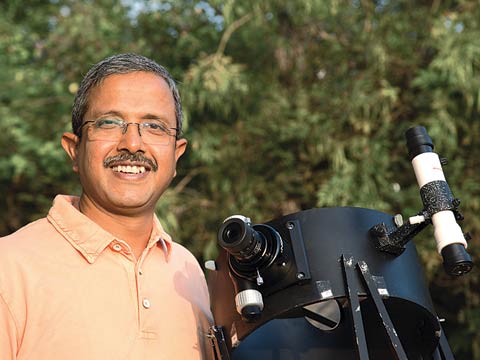 Madhukar Bhatia
Co-founder & Director, Sapience
Astronomy is an exceptional hobby one can pursue. Madhukar Bhatia, Co-founder and Director, Sapience, who is interested in astronomy, says that after work he spends plenty of time to experience the night sky and dramatic imagery of cosmic phenomena.
Fondness for AstronomyBhatia generated interest in this hobby during the college days in IIT-Bombay. With a telescope, one can peer deep into the sky to see objects like galaxies, nebulae and star clusters. It excites him! Seeing pictures of Saturn in books or on TV is different but seeing it through a telescope is a different experience altogether.
Designing SapienceThe business concept of Sapience is also unique just like his love for astronomy. The company is providing guidance for enterprises on their basic working habits. It helps any workplace to multi-task, focus and prioritise work, which further helps to streamline its processes and reduce stress.
For an enterprise, it sources aggregate work patterns at every level of the business in a highly automated manner. Through optimal workload allocation and capacity utilisation, organisations typically achieve more than 20 per cent gain in its productivity.
Passion in Life: Travelling
Favourite Movie(s): 'Angoor' and 'Omkara'
Favorite Food: Different Cuisines
Best Gadget: A birthday gift from my wife - The DSLR camera
Favourite Book: Freakonomics
Trends & Style: Simple and comfortable

Role Model: Big fan of various refreshing and interesting people
Business mantra: Listen to your customers very closely. If you do this part well, other things will follow you.
Favourite Tag Line: "Do you dwell more on the impossibility of things or do you spend your time exploring the possibilities?"