Her Own Boss
She moved to India for personal reasons and treaded the 'lonely path of entrepreneurship'. It took her just three years to be honoured as the All India Outstanding Woman Entrepreneur by the Government of India in 2006-07. Here is the co-founder of Mobera
Tags: IT and ITES
BY Shambhavi Anand | November 04, 2009 | COMMENTS ( 0 ) |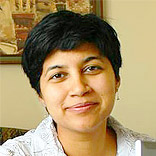 Anupama Arya
Director, Mobera Systems
She moved to India for personal reasons and treaded the 'lonely path of entrepreneurship'. It took her just three years to be honoured as the All India Outstanding Woman Entrepreneur by the Government of India in 2006-07. Here is the co-founder of Mobera Systems in conversation with Franchise India Media.
Shambhavi Anand (SA): When and how did Mobera come into being? Please tell us about your products and your target customers.
Anupama Arya (AA): In 2003, I moved to India for personal reasons and co-founded Mobera Systems Pvt. Ltd. a contract research and product development and engineering company focused on the communication technologies. Mobera's customers are the Engineering and Product Development divisions of large, small and emerging companies in USA and Europe interested in outsourcing the task of product development and R&D. We are primarily focused on communication appliances, security products, wireless networks, healthcare and medical communications, defense, aerospace and embedded systems.
(SA): What has been your occupation before you started Mobera systems?
(AA): Before starting on the entrepreneurial career, I worked as an engineer and was involved in several product development initiatives at Lucent Technologies and Synoptics / Bay Networks (Acquired by Nortel Networks). The companies I worked were largely responsible for kick-starting the networking infrastructure revolution in the early 1990s and giving birth to several new industry verticals. Many initiatives I worked on were at the bleeding edge to technology changing the way we all worked, lived and entertained ourselves. Today it is all mainstream but at that time it gave me the opportunity to learn and grow as a professional.
(SA): What was your motivation behind being an entrepreneur?
(AA): I always wanted to be an entrepreneur primarily for the independence and the opportunity to be my own boss. I enjoy the freedom to give shape to my own dreams. There is both risk and reward but there is no corporate structure and office politics to navigate through.
I also believe that entrepreneurship has the potential to teach real-life skills. Every aspiring entrepreneur, who is fully engaged in growing his business, is learning in one year what others may gain in several years of corporate working life.
Lastly, it is the opportunity to build a great company. This might seem an impossible dream starting out, but it is very much feasible.
It helped that when I started on my entrepreneurial journey, I was in Silicon Valley, California. It was very easy to decide to start a venture because there were so many success stories and there was a community of entrepreneurs where I could share my experiences and problems.
Also, the environment in the valley is such that the entrepreneur is respected, even if his venture fails. If he wants to come back to the job market, his experience will be considered valuable by the company he is going to join.
Given the inspiring environment in the valley and having already worked in the corporate environment, the question was what next? So starting a company to follow my own idea was a natural step.
(SA): How did you go about funding your startup?
(AA): In Mobera we decided not to take venture funding. We are also debt free. We were fortunate that we could start our operation with our customers' money and since then we have grown by managing our cash and investing our earnings back into the company. But in my first venture I emptied out my savings to put my skin in the game.
(SA): What have been the biggest hurdles you have faced so far as an entrepreneur?
(AA): The biggest challenge is the ecosystem in India. Ours is a research oriented business and the value of research as a viable career is not yet well established in India. The image of a researcher is that of a person who is dedicated to his lab but is unable to satisfy his family's economic needs. He does not have the same status as a person to who has a large number of people reporting to him. Hence research and product engineering careers are not sought after as much.
The other hurdle was related to my personal growth and change in mindset. I was trained to be an engineer but when I started my company, I had to be the finance, HR, Marketing and communication as wells as Engineering Operations person. When I was an employee in a corporation, I implemented the strategic goals of the organization, however, as an entrepreneur I have to set the strategic goals of my company. I became the resource allocator as well as an implementer. If I had not grown my skill set, I could have become a hurdle for my own organization's growth.
Most of your clients are from the US and Europe. What is the Indian market like?
In terms of R&D and product development it is a niche market in India. But it is a market that will grow rapidly as the industry moves up the value chain. We are waiting for the right moment to make a call on it.
(SA): What are the challenges that lie ahead for you?
(AA): Navigating a turbulent market without sacrificing margin.
(SA): What are your plans for expansion?
(AA): Tapping global product development markets in key geographies around the world and adding upcoming markets into the Mobera fold.
(SA): What advice do you have for upcoming entrepreneurs?
(AA): Accept Change. If you are looking for a structured and smooth ride, entrepreneurship is not that. Make peace with uncertainty, if you can't, don't opt for entrepreneurship. Even the best ideas may not work if the market timing is not right.
Be open to mentorship. Entrepreneurship is a lonely path. No one can be as passionate about your idea as you can and it is not always possible to share your idea or your problems with your team, customers, vendors or even friends and family. Even if you are lucky enough to have folks to share with, you will still need to rely on your own conviction. Advice from people who have not setup their own company may not mean much but suggestions from those who have the experience can make all the difference.
Put your skin in the game. Understand the expectations of your family and loved ones, because that defines how far you are ready to go and whether it is really worth it for you. Just be clear about the reason you are taking up entrepreneurship and be ready to act on your convictions, the rest will follow.