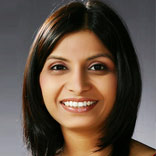 When the US president Barack Obama invited around 200 social entrepreneurs from all over the world for the entrepreneurship summit that he hosted, Dial 1298 was in the list of invitees. Dial 1298 for Ambulance is an initiative to provide a network of life support ambulances 24 hours x 7 days a week. 
Shambhavi Anand (SA): Tell us about Dial 1298.
Sweta Mangal (SM):   The company Ziqitza Healthcare Limited was founded by five people Shafi Mather, Manish Sacheti, Ravi Krishna, Naresh Jain and me.
 "Dial 1298 and Dial 108 for Ambulance" are initiatives to provide a network of fully equipped advanced and basic life support ambulances 24 hours x 7 days a week. The service has been setup with technical and managerial assistance from London Ambulance Service and New York Presbyterian EMS. In case of a medical emergency, a person can dial 1298 from any phone for accessing a fully equipped Advanced Life Support, ALS, or Basic Life Support (BLS) Ambulance within the shortest possible time. Dial 1298 for Ambulance service currently covers Mumbai and seven districts in Kerala.
SA: What is the start up story behind Dial 1298?
SM: We had a personal experience in which one of our friend's mother choked in her sleep at midnight. Had it been the US or the UK, he would have called an ambulance. But in Mumbai there was no such facility. He had to put her in his car and rush her to hospital. The incident really shook him. In 2003, we operated two ambulances in Mumbai as social service. In 2004 after one year, we started 10 ambulances in Mumbai and clearly felt the need for more. Then we met Dr Sam Pitroda who encouraged us to make our model self sustainable. It was in 2005 that we took it up full time and decided on a sustainable module. Now people who use our ambulance for going to private hospitals pay the entire fee and those who use it to go to government hospitals have to pay subsidised or no fee.
SA: How did you fund the organization?
SM: Initially, we funded Dial 1298 with our savings then while expanding, we were supported by Acumen Funds. In the first year of operation itself, we became cash flow positive.
SA: What was your prior occupation?
SM: I did my masters from the US and was working as a financial analyst in an aircraft company. Then I came to India and worked with three corporates for seven years.
SA: How big is your team? How was the experience of building a team?
SM: We are just five promoters with complimentary skill sets. We took care of different departments depending upon our skills. But we had to hire people at the junior level for day to day operations. For the first three years, it was very difficult to attract people. But now that we have become a known name, it's not that difficult. Today, we have a team of 1200 people.
SA: What is the biggest challenge you have faced so far and what was the strategy you implemented to deal with it?
SM: The first problem which every entrepreneur faces is in the first phase where they are about to launch; they feel lost. Capital is another common problem. While starting, one has to try out ideas and put in money, which once invested is difficult to come back. Family and friends might help. Team is also very important. You can have a very good idea and the money to execute it but you can't do everything yourself. You need people to manage areas where you lack in expertise.
Another major problem that we faced was corruption and red tapism. It took one and a half years to get the number 1298 because some one wanted bribe and we are a company which believes in doing things the right way. We could have grown at a faster rate otherwise.
SA: What is your growth plan for the coming 3 three years?
SM: We intend to become a pan India player with presence in eight metros. In metros, since there are rich as well as poor people so our present model can be sustainable. In rural areas, the only way to work is in collaboration with the government. We are working towards that also.