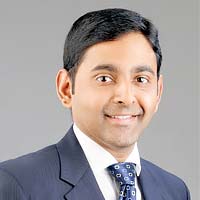 Karthik Nagendra
Founder and Director, ThoughtStarters
Karthik Nagendra, Founder and Director, ThoughtStarters, sheds light on the novel marketing strategy in conversation with SMEntrepreneur.
Briefly explain about the working of your firm ThoughtStarters.
We are the first thought leadership marketing company in Asia. We are specialised in Thought Leadership Marketing, a new approach towards branding that overcomes the challenges in today's marketplace. Driven by positioning, research, content marketing and key stakeholder engagement, we work closely with client's marketing and leadership teams in defining the strategic approach and providing end-to-end solutions.
Please elaborate upon the concept of 'Thought Leadership'? Who are thought leaders in a company?
Thought Leadership is a big and new idea, a strong point of view, or an insight into future trends. Trust, credibility and expertise are the traits of a thought leader. The following aspects in a business executive make him/her a thought leader:
A sound knowledge of the subject, concept, methodology or geography and usually the go-to person for all
Published point of view papers in leading recognised forums on the said subject
He/she is a featured speaker on the subject in leading industry forums
Why is thought leadership important?
According to ITSMA (Information Technology Services Marketing Association) research, in 2014 the top prediction for B2B marketers is that Thought Leadership will win business. According to a research by ThoughtStarters, nine out of 10 B2B buyers place high emphasis on trust worthiness in closing any deal. Currently, only 5 per cent B2B buyers believe that marketers are showcasing their thought leadership effectively; hence there is an immediate requirement for companies to rope in the right partner who can help them formulate right thought leadership marketing strategies that can help them win businesses.
For instance, for a leading social venture we devised a thought leadership strategy to drive the global movement for rural upliftment by engaging key influencers (corporate focusing on rural markets, academia targeting rural research and industry associations). We developed a new concept of 'Rubanomics' that aims to understand the economics and business models at play in rural markets. This concept was then taken forward to engage the key influencers through both online and offline platforms.
This concept was very well received at the Harvard Social Conference and at TEDx Talks and created many door opening opportunities with key influencers and prospects. It increased web traffic by over 100 per cent with powerful engaging content. Average weekly total reach went up by over 400 per cent. It attracted Ambassador Nirupama Rao to follow company's twitter handle. She has over 1.4 lakh followers on twitter. The whole strategy helped establish the company as a thought leader in driving rural upliftment.
What is the key differentiating factor between TLM and other traditional forms of marketing?
TLM

1. Target is long term

2. Driven by research, expertise and innovative thinking

3. Th aim is to garner trust by establishing client brand as an advisor and expert.

4. Mode comprises research, insights and domain expertise

5. Medium comprises content marketing, influencer engagement, collaborations and flagship platforms

Traditional Marketing

1. Target is undefined; usually short term

2. Driven by targets and whatever causes more hype and grabs more eyeballs

3. The aim is to help Sales meet its quarterly/annual targets.

4. Mode comprises catchy messages and striking visuals

5. Medium comprises print ads, TV spots, hoardings etc.
What are the benefits of thought leadership especially for SMEs?
SMEs always need innovative ideas that can help solve a critical business issue or pave way for a new breed of solutions in the years to come, and hence thought leadership can play a very critical role here. In addition to that, with a focused thought leadership marketing efforts, these firms can also create good mindshare with their target audience, key influencers which can help them either quote a premium for their products/services or help them bag a good deal when they approach for venture capital.
How has the concept picked up in India?
Thought leadership marketing is a novel concept for India. However, we are seeing companies showing interest to understand the value it can offer to them. Also, with more and more buyers paying higher importance on vendor's/solution provider's thought leadership capabilities while making their buying decision, we will see a substantial increase in marketing budgets for thought leadership in the coming years.