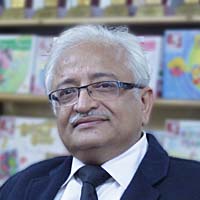 Dr Shyam Makhija
Co-Founder and Director-Business Development, Toy-Kraft
What motivated you to target the edutainment segment?
Education for children attains foremost position among Indian parents. The toys provide vistas for children to open their mind to new ideas and skills. So, I and Anuj Mehta decided to target this market as a manufacturer of creative toys.
Tell us about your entrepreneurial journey.
Finding a partner in Anuj Mehta, who hails from a toy family, was a great support. We both transformed the toys concepts into real and affordable games. Initially, we started off with just 25 toy products and reaching out to the toy market was quite an uphill task in the face of intense competition from established players. We spent initial days in understanding the market scenario and business idea.
What market strategy did you follow to hit the modern toy market?
In modern retail trade outlets, the larger players had monopolised the floor space and at the lower end markets the wholesalers and unbranded players held sway. We realised that the only way to make way for ourselves was to invest in the back-end and make creative and innovative toys. Having done this, reaching out to the customer through the normal channel again was not easy so we use the TV, an effective pull factor, for attracting and binding customers. We tied-up with POGO-MAD as a licensee for the DIY range of craft and hobby products, SAB TV for toys and games, Patch-USA and Fragames-France for board games and with FunOKPlease for puzzles and games.
Please tell us more about the portfolio of toys offered by Toy-Kraft.
Pegasus Toy-Kraft markets its diversified range of toys under the Toy-Kraft brand. This serves as an umbrella for the company's other popular brands covering different toy categories – Crown hobbies – Craft and Hobby products, M'Tek – Metal construction kits, Acorn - Puzzles, Teaching Aids and GameLogy – Board games. The company has released more than 200 toy products and 50 more are slated for the forthcoming year.
What is the scope for entrepreneurs who are keen to start kid-centric business in India?
For businesses, which are targeting children, there is no substitute for first understanding the specific model. Experience is very vital and a new entrepreneur would first have to understand the category and do lot of research. There should be structured pedagogy for aspiring entrepreneurs, who show the necessary attributes.
What are the key challenges for entrepreneurs who are in edutainment segment?
Selling educational toys poses a challenge to manufacturers as toy preferences among Indian children is driven by TV serials. Most urban children want to play with toys, which are character based or with the popular category of fashion dolls and cars which are associated with big brand names. So most manufacturers of this category address parents and talk about the strong USP of learning through play in their sales and marketing pitch.
Why Toy-Kraft has tied up with SAB TV?
Our first tie-up product with SAB TV, SABurbia opened up hitherto unexplored advertising and marketing channels. This is really a boon for a game manufacturer considering the small size of this segment and the limited retail options. We have had earlier tie-ups with other corporate entities but unfortunately it was more of a one way traffic in which the possibility to exploit beyond the conventional marketing channel was missed out. Our alliance with SAB has grown in view of the pooling in of each other synergies. This has helped us to gain a better foothold in the games market.
What are your plans for expansion?
The company has strong ambitions to become a market leader as an innovator, designer and manufacturer of new toys with original content. It is in the process of setting up a new manufacturing facility to keep pace with the demand both from domestic and international markets.