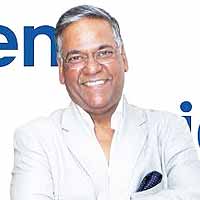 Pramod Saxena
Founder & CMD, Oxigen Service India
Talking to SMEntrepreneur, Pramod Saxena, Founder and CMD, Oxigen Service India, discusses what led to business's transformational growth, the opportunity and future plan.
How did you get the idea of starting Oxigen?
We started Oxigen with the objective to reach to the masses of India through a virtual network for payments and services. The emergence of prepaid in mobiles and rapid growth of other services, which had the potential to reach masses, gave birth to the idea of aggregating all services and connect them to a single point of payment for the convenience of walk-in customers.
How the traction has been since 2004?
The journey of Oxigen which started in July 2004 has seen various milestones. With just five services in its bouquet and 100 outlets only in Delhi, we have grown to 50+ services and a network of 150,000 touch points in just 10 years. We were the first company that created non-banked mobile wallet and instant money services through it. Oxigen leads the industry in offering recharges, bill payments to which it has added its own instant money transfer service in mid 2013 under RBI license.
What are the key factors that led to Oxigen's transformational growth?
There have been few inflexion points that enabled business to transform and grow. First, two investments worth $11.5 million by Citi Venture Capital in early 2006 and then $32 million by Microsoft Corp, US, in the beginning of 2008. Second, launch of company's own mobile wallet platform in 2008 that became Oxigen Wallet approved by RBI in 2010 and is now a market leader in mobile money transfer business. Third, the development of fully indigenous transactions platform and custom built GPRS terminals giving technology and low cost advantage to its operations.
How big is the opportunity for new players in payments solutions in India?
With exponential growth of e-commerce and online retail, digital payments space in India is quite ripe. For new players entering this vertical, this is the ideal time. The massive adoption of plastic money and Internet has been driving the digital payment industry for last few years. This year, the industry will touch the mark of $20.02 billion. The explosive adoption of smartphone and mobile Internet in India has further fuelled the growth of industry.
Brief us on the business model of Oxigen wallet.
Business model of Oxigen wallet is very simple. The wallet can be created by a simple SMS or through mobile app or web. The users can top-up wallet in cash at any of company's more than 100,000 retail points or by bank transfer. Customers simply pay a charge for cash loading, which is approximately 1.5 per cent. Thereafter, normal charges apply at the time of purchase of services/goods. However to facilitate money transfer, no additional charges are applied.
What are your growth plans for the coming years?
We have ambitious expansion plans especially in money transfer services and new dimension of B2C services. We are working towards the creation of a merchant universe for acceptance of our Oxigen Wallet for payment at several establishments to allow cash less and card less transaction expense for the millennium generation. Oxigen Wallet Money Transfer for migrant workers and P2P money transfer among urban youth will be the main stay of mobile wallet/mobile money service. This will be not only in India, but also in many countries of the world. Other major usage will be mobile recharges and bill payments. Merchant payments will also evolve but at a slow to moderate pace. We plan to popularise wallet use among students community at colleges and university campuses giving a cash free environment and to young working professionals for ease of payments in their day to day activities.