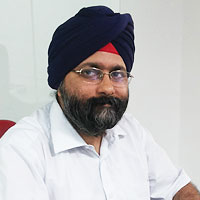 Having founded Proof of Performance (PoP) in 2010, Harjaap Singh Mann submitted the venture to The Economic Times Power of Ideas Initiative in 2010 and was selected among top 15 businesses out of 1,6242 entries and attended the incubation workshop at IIM Ahmadabad thereafter. He was able to garner seed funding from the Department of Science and Technology, Government of India, and also angel funding from YourNest Angel Fund. PoP now has one of the world's largest OOH asset universes on the cloud with more than 40,000 media assets across 30 cities, covering 11,000 km and producing 600 hours of videos every fortnight. The outdoor advertising industry has always struggled with accountability, data on measurement and RoI. With the tools and services provided by PoP the industry seems to be getting a new shape.
Is this your first entrepreneurial venture?
I have been in different ventures, but in media this is the first one. Earlier I was in IT service, web-based applications and security service. All these experiences have come together and have been used in one way or another in this venture.
Technology is being used in all other forms of media but this was a large chunk of the media space where technology had not come in. What we provide is a digital way of planning and executing outdoor campaigns.

Tell us more about Proof of Performance Data Services.
This is a service for outdoor advertising industry across the country. This industry is very fragmented − there is no single platform to plan campaigns and check for compliance audits. This is our attempt to bring the industry on a single platform. If an SME wants to use outdoor advertising to promote their own services and they do not wish to go to a large advertising agency, they can come to this online portal and plan their campaigns, select the billboard that is best suited for them to reach out to their specific audience. We thereafter do compliances to check whether the board has been put up or not for the stipulated period.
What is the business model?
We are promoting it as a subscription model. The entire data of the billboards is available on cloud. Every fortnight our vehicles go around and capture videos of the billboard across 30 cities in India. The software then analyses and plots on the maps which billboards and what brands have been advertised. So when this data gets analysed, organisations are able to see the trends − they can see how the telecom and FMCG industry is advertising, how and where a brand is advertising, they can see their own brand and its presence and also how the competition is placed. When you are using a billboard, you will want to know – what is the kind of traffic that will see it? and what is the demographic profile of the people who stay around the advertisement area? All this scientific data is available with us.
We have added another feature called feasibility duration where the software detects the duration for which the billboard will be visible in traffic. So we use this and other parameters in an algorithm using which we give ratings to the billboards, which makes it easier to plan campaigns.
Who is the target audience?
For the measurement and planning tools, advertisers and advertising agencies contact us. Media asset owners are also our customers but we do not align ourselves with anyone of them, we are a neutral third party.
Tell us about your strategic partnership.
In the advertisement space, we have started disseminating information. For example, we will be partnering with universities and educational institutes. We will donate some of these tools for academic use so that students. It will provide them with exposure to the world-class tools that is changing the way outdoor advertising is working.
What kind of marketing activity are you using currently?
Education is what we are trying to promote. When you advertise on the Internet, you can monitor what kind of traffic is coming, you can plan your campaign, there is a lot of science that goes into it. We are bringing the same reasoning for the outdoor industry. We are aiming to help our customers to plan their campaigns better and see the results at low cost. We also participate in trade events and make our presence is felt there. Before we came in people were struggling with the same challenges for decades, we turned it around and brought new technologies into it.
What are your expansion plans?
We capture data in 30 cities in India through our video model. Moreover, apart from the video model, there is a still photograph model where we use android devices to capture photographs that go straight to our server backed by a call centre.