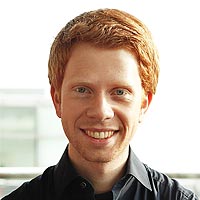 Christian Schiller
Co-Founder, PricePanda
Christian Schiller, Co-Founder, PricePanda, in a chat with SMEntrepreneur, shares his thoughts about the business idea, India entry, challenges and the long-term growth prospects, etc.
Please tell us about Price Panda (www.pricepanda.com) in detail...
PricePanda aims to provide internet users with a simple and useful overview of online offers for their most desired products. They can choose which offer appeals to them the most – the cheapest price, the fastest delivery, the best quality service, etc.
By co-operating with leading online shops, we help users save time and money, while providing online shops with targeted leads that want to buy from them. We believe that by enabling customers to make smarter decisions using services like PricePanda, we can boost e-commerce development in a growing and innovative market such as India.
Throughout 2013, we gained strong double-digit growth rates across our existing markets. I am proud to say that we are well on our way to achieving our vision – to become the No. 1 service platform people will think of when they want to buy products online.
What are the benefits for an incubator backed venture?
PricePanda profits from the expertise in areas such as marketing and IT, which enables us to expand far more quickly into new markets. This knowledge is derived from a strong network among ventures that all come from the same incubator. There are more opportunities for collaboration, shared services and access to the experience of a collective.
The learning curve is shared between different ventures, increasing experiential learning opportunities and enabling us to tap into the know-how and learnings from previous ventures in the same markets. Therefore, the execution speed and chances to succeed with a new company are heavily increased.
How did you nailed down on this particular business idea?
Since the internet is very data driven, it enables you to verify assumptions on the basis of the large amount of available information on market characteristics and needs. My co-founding partner Louis Iskandar and I noticed a lack of a pro-found overview of online shops for the end consumers.
Further, there had not been an effective and easy way for new shops to promote their offers to online customers. These two needs and an already proven business model led to the founding of PricePanda. Finally, it comes down to finding a combination of experienced Internet entrepreneurs and investors, the latest data on market development and a passionate founding team that shares a vision.
Any challenges faced while scaling up the business in India?
We are very pleased with all the positive feedback that PricePanda got from the launch in India. Our initial focus was to pull together high-quality retailers and build the foundation for our Indian offering. We have had some really big players come on-board as partners in product categories like tablets, computers and mobile phones.
Now, we are building off this success to ensure that we have stores of every variety, large and small, offering our customers the widest range of quality products for the best prices possible. We just reached our milestone of 1 million shoppers redirected to our partner stores and our next big challenge will be replicating this success in the Indian market.
Is the model gaining acceptance in India? What is the future outlook?
Digital natives are used to having all the information they desire at their fingertips, especially when engaging in buying decisions. PricePanda provides a transparent overview of the most matching offers needed by the respective end consumer. Hence, price comparison services will play a large role in the future of India's e-commerce landscape. Further, they can be very efficient online marketing channels and help online shops to grow quickly and win new customers as well.
Your personal advice for other entrepreneurs…
Personally, I owe a large part of my experience to the time spent supporting other ventures within Rocket Internet as an entrepreneur in residence. In 2012, Louis Iskandar and I finally took the major leap to found PricePanda, which was an extremely gratifying achievement. The knowledge exchange with the other ventures provided us with a lot of beneficial information.
As a price comparison site, it is absolutely crucial to know our local users and fully understand their needs and wishes. This allows us to create a tailored user experience which is fundamental to our success. New and unexperienced players could struggle with understanding the many subtle nuances that come with emerging market territory.