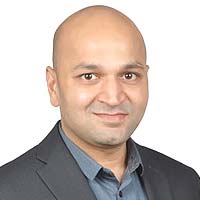 Rajiv Kumar, CEO and Founder, Manusis Technologies, shares his business's growth, expansion and cost-effectiveness of its services in a chat with SMEntrepreneur.
Tell us about the offerings of Manusis Technologies and how big is SaaS (Software as a service) as a platform and opportunity?​​
Our business model is to provide complex services in a simplified manner. We grant our core offerings, i.e. online e-commerce platform, storehippo.com as SAAS at a competitive and affordable price to our customers. We are able to achieve that by first, leveraging our expertise in technology and e-commerce domains, and second, spreading the cost of development of e-commerce across multiple customers.  As we are growing, we are planning to diversify and follow the add-on model where we will provide supplementary services like SMM, SEM and mobile development at an additional charge. As we reach our target customer need, we also intend to follow the marketplace model to put their products collectively on one portal and generate revenue from provided leads.​
​How cost effective are your services for SMEs?​
Our product storehippo.com allows creating a personal e-commerce store in a customised manner and provides a simple yet effective interface for sellers to sell their products and services online. Our solutions are designed for masses and we have been successful in distributing the cost of our solutions across a large number of businesses. That allows us to keep our solutions affordable for small businesses. Anyone can start-up their online store with Rs 800 per month. The amount generally ranges between Rs 800 and 3,500 per month. We also have premium custom solutions for larger clients that start with Rs 5,000 per month.​
​What is the USP of Manusis Technologies?​
Most of our competitors are using decade-old technology that comes with its own limitations. We have sharpened our research and development. Our platform is built on the latest technology stack that is much more scalable and flexible than others. By leveraging the technology, we are able to offer more features and more control to the end user and that makes a big difference to the user.
​
How has been the growth of Manusis Technologies since 2008?
Since 2008, Manusis has seen an upright growth in terms of the clientele that has expanded from India to the US and now to the UK. Starting its operations in Bangalore with four member team, Manusis has outspread its wings in Gurgaon adding a 30 member team to its business.
You are planning to foray into foreign markets like Europe and Middle East, how different are they from the Indian market and what would be your go-to-market strategy?
Online platforms itself are global in nature, however, in India due to lack of technical knowledge among its users, Manusis provides supplementary services to help them set up their website at free of cost. But in the foreign market, with a great knowledge of technicalities in the market, Manusis will allow a Do-it-Yourself model that has all the features needed by the customer.
A comprehensive go-to-market plan clearly describes the goals of the new service and outlines the steps needed to achieve those goals. Therefore, we follow two simple strategies, first, involve channel partners that act as a catalyst of growth; and second, follow a proper 360-degree approach for branding the product.
What growth are you expecting in the future?
​Given the size of the market we are targeting, I see huge opportunities going forward. As the industry is in its early stages (there were only two-three big players until 2012), it has a lot to blossom. We have the vision to step ahead of anything.