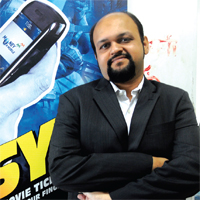 Shashank Joshi
Managing Director, MMPL
In 2010 with the vision to bring the convenience of simplified payments to mobile users in India, My Mobile Payments Limited (MMPL) was started to offer its mobile money service, MoneyOnMobile. In just four years, the company has clocked Rs 950 crore in turnover in last FY14. Talking to Entrepreneur India, Shashank Joshi, Managing Director, MMPL, shares his vision behind the company, how he achieved this transformational growth and much more.
What was the vision behind starting My Mobile Payments?
During the period of 2003-2010, I was involved in the payment business in the US. I thought of bringing retail payment acceptance to India as mobile phones had become a ubiquitous device and I thought paying through mobile would be very convenient for consumers. Hence, we created a platform called M-wallet, which is capable of performing micro financial transactions at any mobile phone, without bank dependence and agnostic to any operator.
Tell us about your current services.
We offer mobile top up payments with different telecom providers such as Vodafone, Airtel, Tata Docomo, Reliance and Idea. For DTH recharge, we have companies like Tata Sky, Dish TV, Sun Direct and Airtel Digital TV. We also offer utility payments with various utility providers like Mahanagar Gas Ltd, Tikona Digital Networks, Reliance Energy, Brihanmumbai Electric Supply and Transport Undertaking.
How did you achieve this transformational growth?
Some of our key strategies for growth have been – First, our service is independent of network operator, so customers need not be on a particular network to create an M-Wallet. Second, customers can use any phone with SMS capabilities so that if tomorrow the consumer changes phones, there will be minimal or no impact on their account. Third, customers need not share their bank account information in order to utilise the M-Wallet. Fourth, we have a low setup cost, hence our clients find it as an opportunity to ride on our wide network to provide services to their consumers and fifth, ours is a zero capex model as retailers can use the existing feature phone for doing transactions.
What strategies do you have for further expansion?
We are aggressively focusing on increasing the utilisation of our prepaid instrument by the name of MOM Card that enables a consumer to pay digitally for services registered on MoneyOnMobile platform. We will focus on B2C acquisitions and adding more and more services to our platform, thereby giving enough opportunities to our B2B partners and consumers to transact.