Make a dream deal
Indian consumers love deals, and it is because of this that Snapdeal connected instantaneously with its consumers. In a span of one year, the company has expanded its presence to over 50 cities and is working with a team of 300 employees. The winning form
Tags: ecommerce
BY Archana Pareek | March 17, 2011 | COMMENTS ( 0 ) |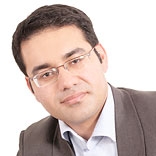 Kunal Bahl
CEO, Snapdeal.com
Indian consumers love deals, and it is because of this that Snapdeal connected instantaneously with its consumers. In a span of one year, the company has expanded its presence to over 50 cities and is working with a team of 300 employees. The winning formula as CEO Kunal Bahl believes is that, "each one of us loves deals". Moreover according to him the inspiration to work in this direction is also simple- if you provide an unmatched value proposition around exceptional value to consumers; it will create an addictive attraction. Kunal has done his engineer from University of Pennsylvania and has a degree in Business from Wharton School. But at the same time he is candid enough to admit that had he not been an entrepreneur he would have been a Travel journalist, painting places with his pen.
Archana Pareek (AP): What prompted your decision to be an entrepreneur?
Kunal Bahl (KB): Becoming an entrepreneur is not a rational decision, and usually happens as an intersection of open mindedness and opportunity. I had done a lot of couponing for a consumer product business in the US, and it was this that prompted starting a business focused on couponing in India.
AP: What is the business model you are working on?
KB: SnapDeal.com is India's largest web based service which features the best stuff to do, see, eat, and buy in your city at an unbeatable price. Our model revolves around featuring one very attractive deal/day/city and then instantly notifying the growing 1.8 million+ opted-in subscribers to purchase the deal from SnapDeal. The website acts as a platform to connect customers who want to explore new things and try out various places, and the merchants who offer such kind of services. Customers are hooked on, because of the attractiveness of the offerings and for the merchants, it's a great channel for acquiring new customers, and increasing their reach
AP: How has the company grown and what has been your strategy to bring it to this level since inception?
KB: In a short period of 1 year since inception, the site is ranked among the top 25 sites of India (Alexa), and is growing at the rate of 1 subscriber every 4 seconds! The strategy has always been to be as customer-centric as possible, and ensure unmatched benefits. We will be looking at adding more and more cities to ensure our offerings reach out to wider audience. Within existing cities, we are going hyper-local. We are also constantly looking at newer categories which can be offered to the customers
AP: How was the company funded when it began?
KB: The Company was self funded and backed by an angel investor from the US, who I had known for long. We already have some of the top venture capital investors in the country as our partners – IndoUS Venture Partners and Nexus Venture Partners. They have been a tremendous support to us, not only financially, but also from the perspective of defining the strategic direction of the business.
AP: What are you doing to keep your customers interested in your prospects?
KB: Snapdeal is an innovative platform which drives a large no. of customers to retail businesses within a short span of time. The model has been so successful that a lot of national brands and local merchants alike have partnered with Snapdeal.com. The portal has featured over 2500 businesses across various cities of India since inception.
AP: How did you develop your first team (of employees)? What were the challenges you faced?
KB: Nobody wants to work with a 2 person company without an office. It was tough to bring on board senior people initially. This is why we brought on board junior team members who we then groomed to take on more responsibility.
AP: What is the biggest challenge you have faced so far while operating through the web base in India?
KB: Building trust is the toughest thing to do as consumers need to believe in a virtual brand in an offline world. We believe there are a lot of people already online in India, and there are more new people going online every day, so that is a reducing problem.
AP: What have been the key marketing and brand building strategies for your business and how do you define your USP?
KB: SnapDeal.com has been innovating and creating this category since its inception in February last year. This is evident in the number of retailers that we work with across the country, the categories that are showcased on the site, the unique option pricing model that we follow, and the customer-centric focus that we have in everything we do
AP: How do you see the Indian e-commerce industry grow from here onwards? What's the scope for Small and medium entrepreneurs when they enter this sector?
KB: India's e-Commerce industry is experiencing a spurt in growth in sectors like Online Travel, e-retailing, Daily deals, Jobs & Matrimony. Though the growth in all of these sectors has been more than expected in the recent past, there is a lot more potential which is waiting to be tapped. A lot of the transactions originate from only the top 8 – 10 cities presently.
Fullest potential of the industry would be reached, only when we have the penetration levels of some of the advanced countries. Highly concentrated urban areas with very high literacy rates, a vast rural population with fast increasing literacy rate, a rapidly growing internet user base, technology advancement and adoption and such other factors make India a dream destination for e-commerce players.
AP: What have been the advantages and disadvantages of working as an online business?
KB: The advantage of an online business is that it scales very fast and this can be observed from a day to day basis. The growth one witnesses hence is very encouraging for the entire team. However, given low barriers in online businesses, you would often witness a lot of smaller players who can create "noise" in the market, given they may not have the same standards of execution and customer service excellence as others.
AP: What is your word of advice for today's entrepreneurs?
KB: Build the best consumer experience you can even if your idea isn't the most innovative. It's the execution that matters.