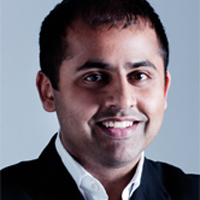 Karan Behal
Founder & CEO, PrettySecrets
PrettySecrets started out as a women's sleepwear brand 9 years ago. Being a dominant player in the offline lingerie retail market, PrettySecrets was retailed at close to 300 points of sale including large format stores like Shoppers Stop, Pantaloon, Globus, and also through mom-n-pop lingerie stores across the country.
The start-up was founded in March 2012 by Karan Behal, who comes from a family background of manufacturing and exporting ladies nightwear. He earlier launched a chain of multi brand lingerie stores - 'Lace', a lingerie club that housed PrettySecrets as well as other leading lingerie brands.
With almost a decade experience in the lingerie segment in India, Behal's online foray started in 2011 with 'mylace.in', which was one of the first multi brand online lingerie stores. However, Behal soon realised that the opportunity lies in building an exclusive private label lingerie brand online. As a result, he eventually decided to step away from offline retail and channel his entire focus on building PrettySecrets.com.
An angel investment of around $1 million was raised from Indian Angel Network (IAN) and Harvard Business Angels (HBS) India chapter, and PrettySecrets.com was launched officially in October 2012. The online store currently offers over 10,000 products across lingerie, nightwear, swimwear, shape wear and accessories among others.
Behal recently went on to raise around $2 million in Series A funding round led by Orios Venture Partners and India Quotient along with the participation from existing angel investors. Behal's goal is to build PrettySecrets into a formidable fashion brand online and remain channel agnostic at the same time.
In an interaction with Entrepreneur India, Karan Behal, Founder & CEO, PrettySecrets.com, shares his views on surviving in a competitive industry like e-commerce, use of Series A fund, and roadmap for future growth:
On Growth & Competition...
We have witnessed a strong growth since launch. We have grown almost 20 times in 2 years and 4 times in the last 6 months. Whilst there have been ups and downs for most e-commerce businesses in India over the last 2 years, our positioning as a brand has allowed us to capitalise on the growing consumer demand.
We started off retailing exclusively on PrettySecrets.com, but now have our catalogue available on all leading e-commerce websites including Myntra, Jabong, Flipkart, Amazon, etc. We are channel agnostic and our aim to dominate the online lingerie market. Speaking of competition, If I had to pick, I suppose one could consider brands like Lovable or Enamor as our competition. But in my view, our online focus allows us to dwarf their catalogue offerings.
We have over 500 styles in our catalogue at present and this will scale to 1000 styles by December this year. Whilst most brands tend to pick a few product verticals within the lingerie segment, we see ourselves as a complete lingerie brand with a sizeable collection of bras, panties, sleepwear, swimwear, shapers and accessories. The products are also specifically targeted at young women who are looking for fun, sexy, fashionable and internationally styled lingerie at a reasonable price.
On Use of Series A Fund...
The capital raised would be largely employed in scaling the team and firms' operations. We have a highly qualified team of like-minded young individuals who are aligned with a sole purpose of becoming the largest lingerie brand in India. The funding has also allowed us to build on our product catalogue and foray into complementary product categories as well. We have a state-of-the-art fulfilment centre in Thane which is capable of servicing the growing e-commerce business. The fund raised will allow us to continue on our high growth trajectory and scale aggressively.
On the Funding Process...
We were very fortunate to have a group of seasoned entrepreneurs turned investors participate in our angel round of funding. Rehan Yar Khan and Anupam Mittal have shared our vision and our enthusiasm for PrettySecrets. In fact, Khan's fund Orios Venture Partners led the Series A in the company as well. We did not have to go door-to-door to the venture capital funds at the time. I have learnt that market sentiments and success criterion change constantly and one cannot build a company to suit the shifting tide. Being focused on building a strong business comes first.
On Possible M&A Plans...
We have no M&A plans at present. Our goal is to build a strong and lasting brand. The opportunity at hand is too large to risk loosing focus.
On Market Potential...
The apparel and fashion e-commerce market is growing at a CAGR of more than 70 per cent and the segment is poised to have a market size of $2.8 billion by 2016. The factors fueling growth are - rapidly rising internet penetration, rise of mobile shopping and increasing women online shoppers. In fact, tier 2 and tier 3 towns are driving this growth as they are under served by brick and mortar retail.
On the Future of Retail...
In my view, large online market places like Flipkart, Snapdeal and Amazon will dominate the e-commerce segment in India, with fashion only portals like Jabong and Myntra establishing more curated product catalogues. There is a room for vertical e-commerce websites in highly specialised categories like baby products, furniture etc, but they too will have to create a differentiated value proposition to compete with other large horizontal players in the market.