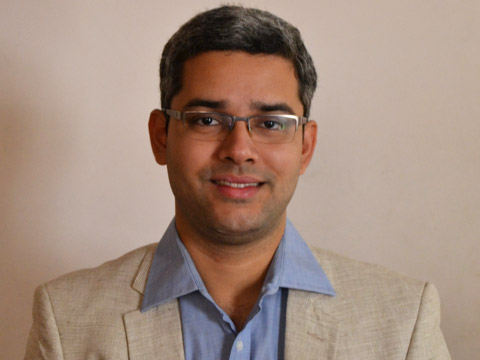 Shivakumar Ganesan
Co-founder & CEO, Exotel
The entrepreneurial bug bit Shivakumar Ganesan soon after he finished his successful stint with Yahoo! After graduating from BITS Pilani, he decided to explore few ideas. It was right at that time, his fridge stopped working. Ganesan faced tough looking for a second-hand fridge and a genuine seller through classified ads and websites. This acted as a spark to start his first venture Roopit, a peer-to-peer buying and selling marketplace.
Voice and SMS played a very important role for Roopit to connect buyers and sellers. At one point, Ganesan was receiving over 100 calls a day. It was then he figured out that he couldn't scale the venture further just using cell phones. He needed a solution that allowed him to handle multiple calls on a single number, route calls and simultaneously record them, etc. To resolve this issue, Ganesan wanted to build a decentralized call center to handle all the customer calls, but there wasn't any readily available solution to build the same. Eventually, he decided to use a bit of Open Source and build the required platform/product. As a result, the product was the first version of Exotel.
Later, when Ganesan shared his idea with some of his friends running businesses, who were on the lookout for a similar product, decided to pay for Exotel. With money hitting the bank from these businesses, the pivot to Exotel happened naturally. In March 2012, the startup raised Rs 2.5 crore from Blume Ventures and Mumbai Angels jointly.
To build a strong core team, Ganesan turned to people in his immediate circle, who had technical skills needed to build Exotel and sales knowledge to help product sell. This is how Sid Ramesh (CTO), Ishwar Sridharan (COO) and Vijay Sharma (Marketing Head) joined Ganesan as co-founders. Before Exotel, Ramesh was with Microsoft working in the Bing team. Sridharan was Ganesan's ex-colleague in Yahoo and had worked with multimedia search team, and Sharma was from BITS Pilani working with Practo before joining Exotel.
In a tete-a-tete with Entrepreneur India, Shivakumar Ganesan, Co-founder & CEO, Exotel, shares his views about the issues addressed by the team, rationale behind acquiring Croak.it, future plans and industry growth view:
What kind of issues are you trying to address with your product/services?
Traditionally, companies used EPABX system to handle their phone calls. The issue with this system is that, people rarely knew what was happening to their phone calls. They had little control over the system. For example, if you were expecting higher call volumes on a certain day due to marketing campaigns, there was no way to increase the capacity of calls handled by these systems. They went down all the time.
With Exotel, the entire infrastructure goes on the cloud. You can now understand how your business calls work. Are you missing calls? Do you not have enough agents? Do you want to have custom IVR messages? Also, moving your phone system to the cloud means that you can now sync them with other software(s) you use – like helpdesk software, ERP/CRM, and have a 360 degree understanding of your customer interactions.
What challenges you faced initially to set up your venture? What's the biggest challenge you are facing in current time?
Initially, our biggest challenge was market awareness and reluctance among enterprises to adopt newer technologies. We are well beyond that stage now, and today, our challenges are more of scale. We are here to disrupt business communications and we need to find out faster means to reach out to businesses we can serve.
What is the traction of Indian SMEs towards hosted cloud telephony services?
Indian SMEs are now realizing the upside of using software and technology to power their business. When we first started out, we had to start from step 0 and explain what cloud telephony was and how businesses can benefit from it. Today, when we talk to a business owner, the level of awareness is much higher. I think, now it's only the matter of time before the Indian SME industry as a whole moves to the cloud, not just for telephony.
Recently, Exotel acquired voice recognition platform Croak.it. How Exotel is planning to leverage from this acquisition?
Croak.it is a voice based app, like Instagram for voice. We loved the Croak.it's team and there was a good synergy between our technologies. Voice will continue to remain at the center of all business communications, though the medium might change. We want all business voice communications to go via Exotel. Croak.it's voice processing technology will be extremely helpful for our goals.
What are your future plans for expansion in India and abroad?
We will be available in more states in India in the next few months. We are also working on expanding to other markets in South Asia soon.
What is your view on the future outlook of the industry?
With new players in the industry and general awareness of the target segment growing, the future is very promising for cloud telephony in India. While initially all the players positioned it as a solution for SMEs, I can see adoption even in larger enterprises.