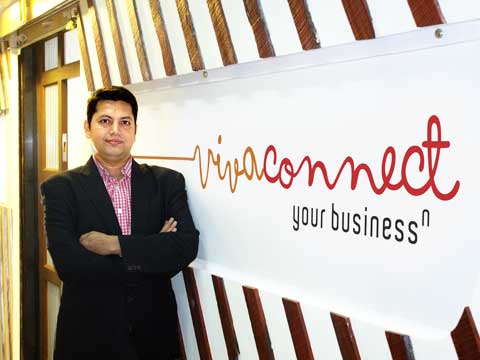 Vikram Raichura
MD, VivaConnect
Coming from an entrepreneurial family, business instinct was natural to Vikram Raichura, MD, VivaConnect. Aged 33, Raichura is the first generation, self-styled entrepreneur, who first ventured into entrepreneurship when he was in college, but the venture failed eventually.
To repay the losses, Raichura conceptualised VivaConnect. Like any other college graduate and with a desire to turn his dreams into reality, Raichura single handedly pioneered the art of providing missed call solutions to large brands and enterprises like, Central Bank of India, Saraswat Bank, Citibank, Standard Chartered Bank, Eureka Forbes, Zee Telefilms and many others.
Sharing his entrepreneurial experience with Entrepreneur India, Raichura says, "My entrepreneurial journey has been a journey of learning. I have played almost every role which is played by 150 people in our organisation today. An entrepreneur's life is all about living with uncertainties, yet delivering certainty to all the relevant parties. You could think of becoming an entrepreneur only when you are willing to accept this."
Birth of VivaConnect
'Viva' in Latin means 'with living voice'. Viva is also an English word that was borrowed directly from Spanish. The word Viva is generally used to express approval or goodwill. VivaConnect is India's leading mobile marketing company having the largest non-VAS infrastructure for Voice, Missed Calls, SMS, E-mails and Mobile App Development.
Founded in 2001 with an initial corpus of Rs 10,000, the company enables businesses to reach, engage and analyse their consumers across mobile horizon. The firm manages a daily traffic of 15 million outbound calls through a pool of over 800 Primary Rate Interface (PRI).
Today, VivaConnect excels among mobile media marketing and solutions segment. With a workforce of 150 people and growing, the company has its presence in Mumbai and Delhi.
Transformational growth
Way back in 2001, the company did not start with mobility services. For the first seven years, the company offered online and e-mail marketing solutions to its clients. Increasing penetration of mobile phones in the Indian market amazed Raichura to penetrate into mobile marketing industry in the year 2007, with a prime focus to target the SME segment.
Within a span of two years, VivaConnect has managed to acquire 6,000 registered customers. Further, the need of mobile marketing has driven the company to venture into enterprise and brand segments.
In the last decade, the Indian mobile market has witnessed an exponential growth. With an upsurge in the mobile usage, the range of opportunities for marketers has increased. The usage of offline services like 'missed calls' or 'LiveTalk' have created a huge buzz in the market.
With over 900 million mobile users, the mobile internet usage is expected to increase from 130 million current mobile internet users to 250 million users by 2015, which is considered as a bright prospect.
India has a high number of feature phone users and a relatively slow migration to smartphones. In next 5 years, the core services of a mobile phone like 'Voice call' and 'SMS' will continue to drive the market in conjunction to mobile apps.
Opportunities and challenges
The mobile device is not only the primary source of communication, but it has also become an entertainment device for the consumers in India. This gives marketers an opportunity to make a continuous and authentic relationship with the customers using various platforms like SMS, missed calls, voice services, in-app advertisements, etc.
However, the biggest challenge for the industry is to set a well-researched and well-structured mobile marketing strategy, which would not only include the optimisation of content delivery, but would also emphasise on how it is consumed by users.
The content should not only promote, but educate users about how the brand would make their lives better, richer and enjoyable. Along with it, security issues, pricing concerns and understanding the consumer context is important and challenging.
Mobile marketing
Many Indian brands are utilising the effectiveness and reach of mobile marketing by making innovative strategies and plans for their marketing activities. They use voice calls, missed calls, SMS, e-mails and mobile apps for enhancing their customer engagement effectively.
"For a Radio station, we had executed a 'Voice Call Campaign', where residents of the chosen regions receive a voice call that plays popular regional songs. If the caller wishes to listen to such songs on demand, then he/she could subscribe to the service for free by making an input through keypad during the call. The campaign had boosted the listenership of radio station as more than 5 lakh callers connected over a call each day," asserts Raichura.
Future Ahead
The journey has been highly fruitful as the company grew from a team of 5 to 150. Along the way, the services were accolade with prestigious CNBC Emerging India Awards (2009), Small Business Congress (2011), Red Herring Asia Top 100 (2012), Mobbys Awards (2013), Indian Digital Media Award (2014) and 'Best in the Show' award at Mobile Marketing Association's Smarties (2014).
The company so far has received a positive response from clients for the kind of mobile marketing strategies that it facilitates. The clients list of VivaConnect includes, Central Bank of India, ICICI Bank, Kotak Mahindra, Reliance, Sharekhan, Vijaya Bank from BFSI sector, Doordarshan, Sony Television Network, and Zee Entertainment from the television industry. Talking about the expansion plans, VivaConnect is looking to scale up their venture by evaluating international markets, starting with Middle Eastern and South East Asian countries.