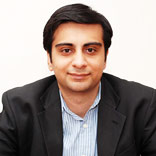 With a string of niche websites, Accentium reaches out to about 3 million internet users and represents 7% of the entire internet users in the country.
Franchise India Media (FI): What is the start up story behind Accentium?
Vivek Pahwa (VP): 
Accentium Web started off as one product, learnt all the aspects of running a successful internet business, from product and content, to marketing & sales, analytics - then leveraging it to build another vertical in a nascent space, then another. So we started with SecondShaadi.com, our smallest revenue generator today, moved to Auto with Gaadi.com, then to education with StudyNation.com.
FI: Tell us about Accentium and the various website it owns.
VP: Accentium is a consumer Internet company which reaches out to over 3 million unique Internet users on a monthly basis. It represents over 7% of the entire internet users in the country. Some of the sites Accentium owns are:
Gaadi.com- India's No. 2 Auto portal where users can research their new car purchase and buy and sell used cars.
Studynation.com – India's most content rich education site – helps students determine their best college choice in both India and overseas.
SecondShaadi.com- India's No. 1 Matrimonial site for second marriages.  
AdLift.com – is a services division of Accentium where we work with companies both in India and overseas to help them with marketing their sites online.
FI: How did you finance your start-up operations and how long did it take for the company to become self-sustainable?
VP: I have always tried to run the company efficiently in terms of capital utilization. This is important, it is easy to over-invest. It is important to find the optimal investment amount for any business and not over-invest for the opportunity available at that time - Also we kept in mind the competitive landscape and long term competitive advantage creation. The business has been financed through family funds - It took time to become self-sustainable, but it is important to continue to invest judicially to grow in an efficient manner.
FI: How big is your team? How was the experience of building a team?
VP: We are over 60 people today. Team building is largely about finding the right people - There is always a trade-off between quality of the hire and speed of hiring. As a start-up, it is essential to hire fast, but the patience required to spend the extra time in finding the right person pays off in the end, even if it means the project getting delayed to start off with.
FI: What are the challenges that you have faced in your entrepreneurial journey so far and how have you dealt with them?
VP: Learning the various aspects of the business and turning them into strengths has been a key challenge. Finding good people and retaining them has been an interesting learning. Learning how to create value for customers and in-turn the company has been an experience. Adapting to the "always on" frame of mind is also a challenge - There is a huge learning curve in starting a business, but a lot to learn on the flip side.
FI: What is your growth plan for the coming 3 three years?
VP: To continue to grow the vertical we are in. Expand into new upcoming verticals with opportunity for growth, such as real estate and healthcare. Growth rate targets are at least 100% year on year for the next 2-3 years. We would like to grow with a focus on generating a healthy bottom line, and focus on high margin businesses.