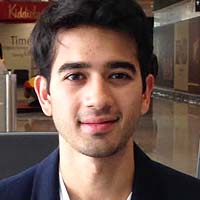 Armaan Gandhi
Co-Founder and Finance Head, Xyra
Armaan Gandhi, Co-Founder and Finance Head, Xyra, shares more on that, the market size etc in a chat with SMEntrepreneur.
Why did you enter the consumer electronics space?
We chose to enter consumer electronics in 2013 because of the sheer magnitude of the market. The consumer electronics space is growing rapidly in India, especially in regards to the smartphone market; we want to capitalise on this growth. However smartphone battery limitations have been prevalent for a decent amount of time. Hence we came to the conclusion that smartphone battery life is a major problem today for users. So we decided to one-up them in every way we could think of through our first product XS Powercard.
Tell us about uniqueness of your first product XS Powercard.
The XS Powercard is an amalgamation of three essential devices – a 2200 mAh portable charger, a data storage device that stores up to 32GB of memory, and a USB syncing cable that fits in your wallet. It is a conglomerate of devices with a number of auxilart features that Xyra believes people need to stay connected to their digital world, in the most convenient way. From the shape to its additional features such as single-port charging, smart power management, smartphone protection and variable charge rates, etc., makes the charger a part of users' day-to-day life. We offer the product in two versions: iPhone 5/5S/5C (lightning connector) and in Micro USB.
How big is the market for such products in India?
The portable charging market in India it is approximately $60 million. Considering that the Indian smartphone industry has the second fastest growth rate in the world (over 52 per cent YOY growth), the growth potential for portable chargers is tremendous.
A large part of the market is dominated by cheap Chinese imports? How big it is as a challenge for you?
Competition from Chinese imports is rife if not omnipresent. We think of this as a "quality over quantity" issue. We believe that there is now a shared ideology amongst Indian consumers where they recognise the concomitant risks to their smartphones if they choose to use Chinese imports, many of which do not pass through certification processes.
In addition to our value proposition, the trick, we believe, is to educate the consumer about how we are more reliable. Our value proposition alone is meant to sway the consumer in our direction, but if price is a major factor in the purchase decision, our product's reliability definitely helps. While we are completely aware of the challenges to educate consumers, it definietly aids us that nobody advertises or promotes the chinese products. In terms of price, we believe that for the features we offer and in comparison to our major competitors, we are affordable.
Why did you launch the product through crowdfunding? How much amount are you planning to raise?
We planned to launch the XS powercard through Indiegogo not only to raise money but also to create awareness about the product. Indiegogo, the international crowdfunding website has over 600,000 monthly users, and fund raising campaigns get a lot of exposure with respect to the media. We would like to raise $50,000 to pay for fixed expenditures, including certififcation processes, while also contributing to our working capital needs enabling us to achieve reasonable economies of scale. Xyra has managed to raise more than $32,000 in pre-orders (delivery expected end of August) in just over a month.
What are your plans for next two-three years?
We would like to see Xyra grow and gain resepctable market share in the global portable charging market segment. We aim to develop and add new deivces to our product line. If the opportunity presents itself, we are also looking to enter into different market segments keeping capital requirements and timelines in mind.