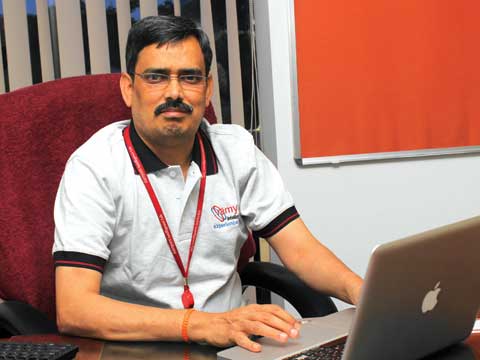 Founded by experienced IT industry professionals with over 100 years of combined experience, Ramyam Intelligence Lab is poised to change the IT solution space for the businesses addressing the very reason for the existence of any business, the customer. The focus of founders and senior management is on providing scalable and reliable solutions usable by any transaction intensive industry having high customer base. MV Balasubrahmanyam, Founder & CEO, Ramyam Intelligence Lab, shares insights of his customer experience management (CEM) platform and the unexplored CEM market in India in a chat with Entrepreneur.
Brief us about your CEM solution. What benefits does it offer to businesses?
Enliven CEM, our flagship CEM solution will provide all features and capabilities to extend business service to a whole new dimension of customer interaction and indulgence. enliven CEM, analyzes millions of profiles, usage transactions and touch point interactions, in-turn creating a three dimensional view of each and every customer to tap insight and actionable intelligence– Next Best Action (NBA), to continuously engage each and every customer, resulting in higher lifetime value. Additionally, by combining customer's insight with action responses, enliven CEM supplies insight into the loyalty factors and track on response generated from each dollar spent, motivating customers to buy more and recommend.
What is the market landscape of your CEM solution?
Enliven CEM has emerged to focus on the customer needs and desires. CEM solutions integrate strategy, processes and technology to optimise each customer experience. The increased alignment delivers increased customer activity, advocacy, referrals, revenue and customer share. Market data compiled from various industry sources estimates the CEM software market at a $5 billion+ market opportunity and forecasts between 30 per cent and 45 per cent growth through 2015.
How does the CEM software connect to individual customers and to end consumers better?
Most of the existing solutions available in the market empower service providers to identify customers and view their customers from only the CRM angle. In the process, they fall short of the end customers' expectations. The challenge and essence is to look holistically at each individual and his/her transactions and interactions with the business from various data sources.
The relevance of the action changes with each customer based on the present contexts. Once we understand the customer holistically, we design a real time customer engagement NBA highly personalised to preferences of the customer to maintain a true omni channel persona. In short, enliven  makes sure the complete experience of an end customer from start to finish and beyond is happening seamlessly over multiple channels thereby providing the true omni channel experience.
How has your product adapted to market characteristics?
Managing the customer experience requires changing, how we do business, being able to sense and respond to adapt our business models to customer needs. We've got to look at the holistic customer experience and not just bolt on pieces and look at things in silos. One of the key factors contributing to this market growth is the increasing adoption of end customer knowledge bank. The enliven CEM platform has also been looking at adoption of key CEM processes over the cloud-based infrastructure. Our CEM framework incorporates various experience audit factors that address the CEM gaps in the current landscape.
What are the key business differentiators of your solution?
Enliven CEM presents a value-driven approach to customer experience improvement. What differentiates us is first, enliven CEM is a complete customer experience management solution providing the "omnichannel persona" of a customer with closed loop end-to-end analytics and actionability. Second, we focuses on the key areas like customer acquisition, customer retention and customer life cycle management across multiple channels of the business.
What future innovations you are looking at?
It is not technology alone that matters. It is the combination of clear cut business strategy getting streamlined through technological imperatives with outcome-based results. We are on the cusp of a remarkable wave of innovation, productivity and growth in new and emerging data integration, analysis and visualisation technologies in our platform. We are also carving out a well laid out ecosystem for data monetisation between multiple businesses. We are inching forward towards extending the CEM space by defining use cases with IoT ecosystem.