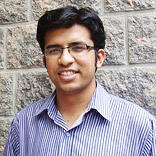 Doctors, pharmaceutical companies and chemists, that's all most of us think of while talking about the healthcare industry. Shashank ND of Naabo Solutions took a step further and thought of the IT solutions that the industry would require as it grows bigger. The entrepreneur talks to Franchise India Media about his biggest passion – the passion for making the Indian healthcare industry, world class.
Taslima Khan (TK): Please tell us about yourself: your career path and educational qualifications. Are you cut out to be an entrepreneur?
Shashank ND (SND): I am an engineer from National Institute of Technology, Karnataka.  I got introduced to entrepreneurship while in the second year of college and was soon participating actively in all the entrepreneurial events held in college. I realised that entrepreneurship can bring about a lot of change in the society and so I went ahead to start Naabo.
I have always dared to dream big and strike it big on my own. This according to me are the prerequisites for becoming an entrepreneur. Beside that the burning desire to make a difference to the society also helps me in my endeavours.
TK: What inspired you to take up this business concept?
SND: The growing healthcare sector has created a demand for IT solutions for the organizations providing facilities in the area. We saw huge opportunity in the sector for quality products that would enable faster growth. This inspired us to create products like TurboDoc (www.turbodoc.in). We are committed to do our part in ensuring access to quality healthcare to every citizen of India.
TK: Please tell us about your business model?
SND: Naabo builds web based IT products for the healthcare industry. We believe that IT will be an essential component of any healthcare unit to scale up and improve patient care effectively.  Our product TurboDoc (www.turbodoc.in) currently targets private dental practices to provide them effective clinic management application off the web. It will also enable them to procure quality material and equipment at lower costs. We are looking to scale this up across the country and target other departments of medicine.
TK: How did you go about funding your business?
SND: From the time we began up till now we have been self financed. But now we are engaged with our advisors to infuse capital and scale up operations from the next financial year.
TK: What were the startup struggles you faced?
SND: It takes time for a startup to convert its vision into a realistic product and then produce encouraging results. This requires perseverance, team work and discipline. We initially struggled to convert our vision into the right product and since then we are looking to scale it up.
TK: What have been your major achievements so far?
SND: Since the launch of our product TurboDoc (www.turbodoc.in) 3 months backs, we have acquired over 150 subscriptions from private dental practices across south India.  We have also been selected to work with MVP (Morpheus Venture Partners) to enable us to scale up across the country in the coming months. This has been a major achievement. But to achieve it we spent over 2 years understanding the market forces.
TK: How many clients are you catering to at present? What sort of response you are getting from clients? Can you name a few prominent clients?
SND: Since our product launch in May 2009, we have about 150 users. We are adding about 75 subscriptions a month and aim to reach 500 by November 2009. Customers are very happy to have a web based IT product to ensure smooth operations of their practice.
TK: At present how many people are working with you?
SND: We currently have ten people based out of Bangalore. We are expanding and setting up sales teams in Mumbai, Delhi and Madras in the next 6 months. We have been very selective in our recruitments to ensure quality.  
For this we recruit from the best engineering colleges in India like the IIT's, NIT's, BITS Pilani for technical work and the best sales executives from the top MBA/commerce colleges.
TK: Are there other players in the same domain? What sort of competition you are facing from them?
SND: The IT industry which caters to the healthcare sector of the mid to low scale level comprises of freelancers and small time developers only. Hence, we have edge over them. But in the upper market for Hospital Information System (HIS) there are many big players such as Wipro.
TK: Where do you see Naabo solutions 3 years from now?
SND: Naabo will be the leading IT provider to the healthcare sector with an entire suite of products aimed at solving problems faced by hospitals, pharmaceuticals, insurance, manufactures, distributors, doctors and patients. We aim to make healthcare more efficient by connecting all the main components of the sector.