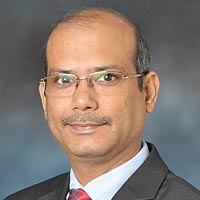 Tell us about VMC Technologies. When was it started?
VMC was started in 2006 but it was not really functional till 2010. We were just playing out with the idea, and I was also not full time into this business. Looking at what was the need and why it was needed in the market, we decided to get into the cloud telephony business by the end of 2010. I joined the business full time in mid-2011. I was working as a Vice President at Goldman Sachs before this.
How does cloud telephony benefit SMEs?
SMEs today do not have a coherent number where a caller can call and connect to anyone within that organisation. I wondered how these companies manage their inbound calls as they must have lost many calls and business leads and they might not be aware of whether their employees were responding to these calls. In response to it, I thought of a solution where these SMEs did not have to depend on any hardware or software solution and yet had a number that could connect all numbers within their company.
To start with, we looked at a call tracking system where basically a sales organisation would advertise a number in the market and expect a lot of inbound calls. If they received let us say 100 calls in a day on that mobile number then certainly a lot of them would be missed, which was a potential loss to the business. We worked on this to configure N number of executives on that one mobile number, so that when the call came, it got distributed among the executives. Hence SMEs have few chances of losing calls and leads and in return they get better RoI. Furthermore, the calls are recorded. All this gives SMEs better control as you know which executive attended the call, the call timings and durations.
What is the cost involved in adopting cloud telephony?
Typically, the cost is around Rs 2,000 per month, which has some usage limit, and post usage you have to pay usage fee which is about 80 paisa per minute. The initial set-up cost is zero, i.e. there is no up-front cost.
How has been the adoption of cloud telephony among SMEs in India so far?
Initially, it was a real challenge to educate the customers and sell the product. Now, the adoption is good. However, in tier 2 and 3 cities, there is more lack of awareness whereas in larger metros people are somewhat aware. The biggest challenge we face from customers is that why should they get this system? Almost every sale of ours unless it is through a reference, comes from making the customers understand as to how it will benefit their business.
Have you raised any funding so far? Do you think investors shying away from cloud telephony market?
We are self-funded so far. However, I am planning to raise $5-7 million in the first round of funding which would be allocated towards sales, branding and support. The investors are shying away from this market because first, they think that there are already too many players in the cloud telephony market and second, they fear that whether the cloud telephony providers will be able to get 10,000 or above customers as according to me, this business model is based on the premise that each one of the cloud telephony providers will succeed and have around 30-40k paid customers.
Tell us about current status of your business.
Today, we have more than 500 SME customers and have done around 2,000 installations so far. The current turnover of the company is around Rs 3 crore and we are planning to reach Rs 140-million mark in next five years and 50-60k customers in next three years, if we get external funding. When it comes to the market size, I think there are 30 million potential customers and around 700-800 million voice users. Among the sectors that use cloud telephony maximum are real estate, education and hospitality.