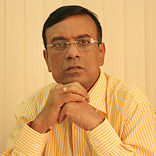 Bandhan came up as a micro finance institution with the dual objective of dealing with poverty alleviation and women empowerment. It is also engaged in development-work though it's not-for-profit entity. Mr Chandra Shekhar Ghosh, Chairman and Managing Director, Bandhan tells us how the company works to bring back the hope in the lives of the unprivileged community.
Bhuvnesh Talwar (BT): What are the eligibility criteria for an entrepreneur seeking loan?
Chandra Shekhar Ghosh (CSG): A prospective micro loan borrower should fulfill the following criteria:
She should be
Land-less and asset-less woman
The borrower's monthly income should be less than Rs 2,500, if living in rural area and Rs 3,500, if in urban area.
BT: What kind of problems do you face while recovering loans?
CSG: As Bandhan has registered a record of almost 100 per cent, on time repayment rate; it has never faced any big issues regarding repayment of loan. However, at times, there are small repayment problems due to natural calamities, epidemic etc.
BT: What is the maximum amount of loan that can be availed of by an entrepreneur?
CSG: The range of loan amount, in the first cycle for different loan products ranges from Rs 1,000 to Rs 50,000. However, we have recently launched Micro Small and Medium Enterprise (MSME) program, wherein we offer maximum loan up to Rs 3, 00,000. This product is in a pilot stage, as of now. The potential borrowers of this product are the graduates from Micro Enterprise Program (MEP).
It may be noted that Bandhan's average loan size on disbursement is Rs 10,023.
BT: What kind of entrepreneurs avail of loans from Bandhan?
CSG: Entrepreneurs that avail of loans from Bandhan are engaged in different income generation activities such as vegetable vending, meat vending, small grocery shop, road side food joints, animal husbandry, poultry, readymade garments shop, small factories of clothes, garments, pottery, cane and wood work, and small and cottage industries etc.
BT: What procedure does an entrepreneur go through for obtaining loan?
CSG: Bandhan follows individual lending model through group formation, keeping the objective of easy accessibility and door-step credit facility. A group member becomes eligible to receive a loan after 2 weeks of membership. The 2-week period is basically for the prospective borrower to understand the organisation, its system, values etc. They learn about the credit discipline in the initial period.  The loan is disbursed at the end of 2 weeks.
BT: What are the different loan repayment options available?
CSG: The repayment frequency in all the loan products is weekly. However, for the MSME Loan the repayment is monthly and for the Health Loan the repayment is optional, either weekly or monthly as per convenience of the borrower. 
BT: What is the rate of interest charged by Bandhan?
CSG: Interest rate charged by Bandhan is 12.50 per cent, flat.
BT: What is your default rate?
CSG: The default rate is almost negligible. It is around 0.11 per cent.
BT: Apart from credit, what other facilities does Bandhan offer?
CSG: Apart from microfinance, Bandhan is actively engaged in the development space. We believe that microfinance is not the last word for the development of the poor. There is a lot of other support they need for their holistic development. Hence we thought it is imperative to deliver services in the field of education, health, livelihood etc. We also have an exclusively designed grant based program for the poorest of the poor, who are generally believed to be bypassed by the main stream microfinance. Also, we have recently launched a program to address the prime issue of unemployment of youth belonging to the poorer section of the society.
BT: How much support have you given to women entrepreneurs as part of women empowerment?
CSG: Bandhan was set up to address dual objective of poverty alleviation and women empowerment. 100 per cent of our beneficiaries are women.