Quest for perfection
The gap between the skill-set that the industry requires and the talent pool is tremendous. Sonia Nagpal, Director at i360 and her team have taken an initiative to bridge this gap. She reveals her endeavour to Franchise India Media.
Tags: Sonia Nagpal, i360, Staffing & Training
BY Shambhavi Anand | December 09, 2009 | COMMENTS ( 0 ) |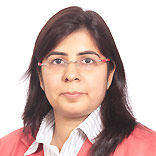 Sonia Nagpal
Director, i360
The gap between the skill-set that the industry requires and the talent pool is tremendous. Sonia Nagpal, Director at i360 and her team have taken an initiative to bridge this gap. She reveals her endeavour to Franchise India Media.
Shambhavi Anand (SA): When and how did your company come into being?

Sonia Nagpal (SN): i360 Staffing & Training Solutions Private Limited started its operations in Sep'2008. The gap between the skill-set the industry required and the talent available triggered the thought to start a vocational training education chain. The 360 in i360 stands for the entire solutions starting from training of students to their placements. The other important elements in the process were mapping corporate, conducting skill enhancement programs and managing the recruitment.
(SA): What are the programs offered by i360?

(SN): We offer variety of programmes to our students like spoken english, call centre training, IELTS, retail management, certificate in managerial accounting and CS coaching (selected locations). We offer placement support to students enrolled for job oriented programmes.

Our corporate and institutional verticals offer a variety of programs categorised as sales & marketing, HR, supervisor, leadership, managers and workplace essentials.
(SA): Considering that there are a number of educational systems and training institutes what motivated you to take up a concept like this?

(SN): The existing educational institutes have done a great job to enhance the skill set but it's not sufficient. The growing economy of India has created a high demand for talent way more than the supply. We are methodological in approach, technology oriented and are process-driven. The programs, we are promoting are job oriented and enhance the employability of the youth. Our placements connect the students to the industry, hence, completing the circle of development so that their requirements are met.
(SA): How did you finance your company?

(SN): My family and friends have contributed in kick starting this venture.
(SA): Tell us about your career track before starting i360.

(SN): I have spent 16 years in the industry in the fields of sales, marketing, channel management, training and certification management, and partner alliance etc. While working in a leading IT multi national corporation (MNC), I got the exposure to launch training and certification programs for their partner community using various technology driven platforms. Some of these innovations created industry benchmarks and were recognised at various industry forums. Quality, timelines and process oriented approach in delivering various roles for retail, commercial and enterprise partners helped in the development of business acumen.
(SA): What measures have you taken to ensure that your students are placed? How much did recession affect the placement?

(SN): Placements at i360 have been very successful. Companies like Bata India, Spencer's, Pantaloons, Shoppers Stop and many others have i360 aspirants. Since most of the franchise centers are new, most of the students to be placed are still under training.
(SA): How do you cope with the challenges prevalent in the industry?

(SN): Edelweiss estimates a growth of 30 per cent compound annual growth rate ( CAGR) till 2013, in vocational education. Hence, the market is very big. I think more than the competition it is the challenge to fulfill the internal benchmarks we have set for ourselves for the execution of the entire project. The initial challenge faced by us was getting the right manpower and having the 'Think Big' approach. Through constant mentoring, training, process orientation, quality and audit procedures we have tried to enhance the skill set of people and vendors associated with us.

Our vision to grow would throw challenges at almost all levels of business processes like operations, academics, delivery and partner management. The need of the hour is to constantly work as we have a long journey ahead.
(SA): What are your plans for expansion?

(SN): We have 30 centres all over India spread across Delhi, Punjab, Rajasthan, Orissa, UP, Uttarakhand, Himachal and Madhya Pradesh etc. We have very recently started our east-operations. We are hoping to cross the100 number of centres by the year 2010.
(SA): What advice do you have for new entrepreneurs?
(SN): While setting up my business, the key learning had been, closely monitoring the process followed at ground level. I advice the same. Be flexible, listen to the customer feedback, and upgrade as required.