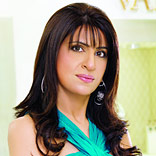 Her love for jewellery brought Varuna back to India. However, she did not join her family business. The freedom of an entrepreneur was more important to her than just being a jewellery designer by profession or being a part of her father's business. Varuna D Jani, Founder of label Varuna D Jani talks to Franchise India Media about her journey as an entrepreneur.
Shambhavi Anand (SA): Tell us your start up story.
Varuna D Jani (VDJ): I remember the love for jewellery began from eight years of age when instead of enjoying playing with friends, I would accompany my father to his jewellery store in Zaveri bazaar during the summer vacation and sketch jewellery designs instead of cartoons unlike other children, my age, I was different. I got married at an early age of 18 and migrated to Dubai in 1991 along with my husband and my daughter. So priorities changed and my dreams had come to a standstill but destiny had something else in store for me and in 2005 I returned to India on my fathers call to assist him in his jewellery business as his health had deteriorated and he felt my brother would not be able to handle the entire business, alone and this is how my journey began, and in 2006 I had started my own label Varuna D Jani for Popley Eternal.
SA: You could have worked, as a designer, for some jewellery brand. Why did you choose to start your own venture instead?
VDJ: I always believed that real creativity can happen without any interference, pressure and tension and when the mind is allowed to flow freely. I have always performed best when I work with my heart. My designs are innovative and out of the box, when it comes to creativity. All this would not have been possible if I was working under somebody. Statistics is all that matters to the company and real creativity would have been lost.
SA: Why did you not join your father's business and take the family business forward?
VDJ : I had always come with the intention to help my father and to fulfill his dream of being known all over the world but sometimes we become helpless and need to surrender to God and go with the flow because in this world we are all actors playing our roles and the director all mighty decides when we need to play our roles with which actor and when the role needs to end but I know for sure I as a daughter was not able to fulfill my fathers dream of carrying his family name forward but I promise I shall bring his family fame where the world will know my father through my achievement and this is the  greatest gift a daughter can ever give back to her family
SA: You and your father are in the same business. Is there any difference in the way he does it and the way you do it? What is the difference?
VDJ : What ever I am today is because of my parents upbringing I have learnt the virtues of hardwork honesty passion perseverance all from them and if it was not for my father who called me back to India I would never have been able to follow my passion and it my fathers money given to me which started my luck rolling he was my lucky charm Now that I am on my own there is a difference in doing business without loosing the values given to me by my father as I believe that to survive in this competitive world you need to be different and create a niche for yourself and you need to change with times and keep pace with the speed so you are left with no option either grow or die there  is no in between route and as there is no loyalty existing anymore  you need to come up up with newer products and innovation and can never ever  rest on  your laurels or you shall be left  behind
SA: Where did you bring funds from to start up?
VDJ : I have been very lucky as destiny has made me exit my investment  always at the right time as when I needed funds to start my own venture in 2008 I had to liquidate majority of my investments as the investment required in jewellery business is huge but the share market was at its highest ,property prices at its peak in Mumbai and property prices at its peak in Dubai I felt at that time I was left with no other option but today I am grateful to god as nobody would have scripted it better  not even myself
SA: What were the major hurdles in your entrepreneurial journey?
VDJ : I started my own flagship store in December 2008 and that was the very year the recession had set in and the terrorist attack had occurred just  few days after  the invitation had gone out so there was no way but to open the store I faced the examination before I actually got the experience but when I started I was not afraid as I had never realized the depth of the fall as my eyes were focused on the height of the sky above which was my ultimate goal but once you have faced the worst times ,you are bound to fly but the inner satisfaction you get of putting in your best makes you forget the worst  of times  there are hurdles everywhere but it depends the way you look at it and I feel the experiences learnt out of it makes me one more step closer to my final destination
SA: The jewellery business has infinite number of players. How do you manage competition?
VDJ : I always believe in competing with myself and keeping focus in what I believe in irrespective of what the competition is doing as if one believes in his product and does it passionately with honesty perseverance hardwork is bound to be successful as passion is contagious and is bound to spread all over all one needs to remember is to believe in oneself and then face all hurdles like a soldier protecting his territory and never loose focus of his ultimate goal without getting sidetracked as nobody knows you better than you yourself
SA: Apart from other designer labels, do you see the well established local jewellery shops also as competitors?
VDJ: My store and jewellery is very exclusive and for all regular purchase ordinary is ok but for precious moments you do require special jewels as for your celebrations you need to be unique for your occasions you need to be different and for milestones you need to make a statement and my jewels cater to all these precious moments as thoughts are invaluable but precious moments are priceless and my jewellery are unique and exclusively well
SA: What keeps you going during the low times?
VDJ : My deep passion for jewellery and belief  in myself and faith in god keeps be going forward at all times as I believe that there is a silver lining to every dark cloud and there  is a deep reason for all that happens in our entire life and only when you surrender you enjoy the journey
SA: What is your message to the aspiring entrepreneurs?
VDJ : Always believe in yourself and your dreams and its never too late to begin all you need is belief in yourself , hard work, honesty ,patience and enjoy your journey and never loose focus of your final  goal and success will definitely be yours.