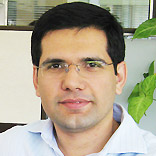 With work load increasing and you becoming busier day by day, have you ever wondered if somebody could take care of your calories?  Calorie Care is the answer to your problems – they make food tastier by counting the calories. Cyrus Driver, the CEO of Calorie Care in conversation with Franchising India Media.
Shambhavi Anand (SA): Tell us something about Calorie Care.
Cyrus Driver (CD): Calorie Care is India's finest healthy meal service and its first calorie-counted meal service. We deliver meals that are calorie counted, nutritionally balanced and delivered fresh to your doorstep day after day. We cater to a wide variety of requirements – different calorie levels, different cuisines, veg/nonveg, regular balanced meal plans / low sugar meal plans (for diabetics) / low salt meal plans (for hypertensives) / high protein meal plans (for body builders).
(SA): What motivated you to take up this business concept?
(CD): In 2004, I was a private equity investor working long hours in office and finding it difficult to keep in shape. I realized that there are no healthy eating options in Mumbai for health conscious executives. I wanted meals that were healthy, creative and customized to my needs. That led me to the idea of starting Calorie Care. I then put together a team of chefs and dieticians and spent a year in R&D developing a large library of calorie counted recipes and creating software systems that would allow us to track each individual's meal plan. We then launched in September 2005. 
(SA): How did you go about funding your startup?
(CD): I started out entirely with my own savings. I had worked in Singapore for 4 years and saved up in dollars. I invested virtually my entire savings to start Calorie Care. After 2 years of operations, by mid 2007, we were able to raise a round of venture capital.
(SA): Did you always want to become an entrepreneur? Why did you take up a job with JP Morgan Partners? 
(CD): From my college days, I have always wanted to start my own business and do something innovative with it. I grew up in a middle class family so I never had the financial resources to invest. Hence, I needed to work and save money. After completing my MBA from IIMA, I chose to join JP Morgan Partners because the job offered me the opportunity to study multiple businesses and interact with many successful entrepreneurs.
(SA): What challenges did you face as a start-up?
There were two major challenges that we faced when we started off. Marketing was our biggest challenge. As a startup, we have never had the funds to advertise. So the biggest challenge has been to create awareness about our service. Even today, we feel that we are barely known and that 99% of the health conscious people who would love to try our service don't know that we exist.
Cost control was also a major issue. Our costs are much higher than regular caterers because we use a high quality of staff, we involve dieticians at every step of the process, and we spend a lot on software and systems. All of these factors add to the cost. Yet, customers are very price sensitive. We have to continuously find ways to make our service affordable to a wider audience without compromising on quality in any way.
(SA): What is the USP of Calorie Care?
(CD): We have truly been an innovative company. We have many firsts to our credit:
India's first calorie counted meals
India's first diabetic meals and low sodium meals service
India's first high protein meal plan
India's first gourmet salad delivery (to be launched soon)
We have also created India's largest library of tested and calorie-counted healthy recipes.
If I were to pick any one facet as our USP, it would be our unique ability to deliver calorie-counted meals.
(SA): What role does technology play in customizing calorie food?
(CD): Technology plays a critical role in delivering calorie-counted meals. We use proprietary software systems to plan and track each person's meals and we weigh ingredients and serving sizes at every step to ensure we adhere strictly to our special recipes.
(SA): What are the challenges that lie ahead for Calorie Care?
(CD): Our key challenges in the future shall be innovation, sales and marketing and expansion.
(SA): What are your future plans for Calorie Care?
(CD): We plan to launch in other metros in 2010 with franchisee partners.
(SA): What advice do you have for new entrepreneurs?
(CD): To the young entrepreneurs I would say, India is a very price-conscious market. So plan your pricing very carefully and track your costs very carefully. Also, do not enter businesses that have lots of entrenched competition. Instead, be innovative and seek out or create niches in which you can establish yourself before other competitors become entrenched. Innovating is also very important for a start up. Your customer's preferences will change, your cost structure will change and competitors will keep emerging. You must stay flexible and alert and keep innovating to stay ahead.