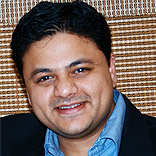 Passion led Gandaarv Miethal to grow into an entrepreneur in the hospitality industry. Chandra Residency, Miethal's first venture which is a global class boutique hotel targeted at business travellers stands tall independently. 
Harmit Singh (HS): Tell us about Chandra Residency?
Gandaarv Miethal (GM): Chandra Residency is a hotel which was launched in 2007 and is backed by Chandra Group, a family owned company. Chandra Group ran one of the first hotels in India in 1932. My family was initially into small hotels, later entered retail, etc. Chandra Residency is my first venture. It is a high end boutique hotel, not backed by any big name but has rooms and services as good as a five star hotel. It is a cost effective and value for money hotel. We offer our services at huge discounts. Our room price starts with Rs 5,000, which is pretty reasonable. We offer special benefits to corporate.
HS:  Why did you choose the hospitality industry?
GM: Hospitality is my passion. I did not want to join my family business so left for Canada. After I returned, I setup my own venture in one of the oldest industry i.e., hospitality.  
HS: What were you associated with before initiating a business of your own?
GM: Before initiating a business of my own, I was in Canada working as a General Manager at a Hotel (Food and Breweries industry). I also owned a hotel there. By qualification, I am a Bachelor of Hotel Management and Business Administration
HS: Do you think you were cut out to be an entrepreneur?
GM: Yes, I do feel that I was cut out to be an entrepreneur. I started very early. I joined a small company initially and at the age of 21, I had a consultancy of my own. I am outright and passionate about my work and love to do things on my own. Hospitality-business is the simplest yet I came up with a concept that further simplifies it.
HS: How many people did you have when you started? What is your current employee strength?
GM: I started with a team of 7 people and currently have around 40 people working for me.
HS:  How long did it take you to break even?
GM: This hotel is 2 years old. We are heading towards breakeven. In the hospitality sector, breakeven point is high due to heavy investments and we are working towards it
HS: Where did you get finances from, initially to run your business?
GM: I was backed by my uncle, Amit Kumar to help me with the finances.
HS:  How do you differentiate your services from others in the hospitality industry?
GM: I have a very simple approach to it. We believe in fantastic, uncomplicated and quick service which is very specific. It is very important to analyse the potential of our customers. We treat them as most knowledgeable and never over promise them as we believe that the power of saying 'no' to a customer is as good as the power of saying 'yes'.
HS: What challenges did you face when you started?
GM: Business means to be busy which is a challenge in itself. I also faced many initial hiccups like that of finding a skilled staff and others which we managed to overcome through our humble services.
HS: What are your future plans? Which other cities are you planning to enter?
GM: I want to make my business stable and want it to be recognised globally. I want it to become a brand. I am currently looking to explore more boutique properties in the next few years. I have my hotel in Bangalore only and want to expand my venture to B and C class cities like Nasik, Chandigarh, Jaipur, state of Uttaranchal and not just in metros.
HS: What advice would you like to give to entrepreneurs who want to get into hospitality industry?
GM: I would like to advice entrepreneurs to have passion for the work, they want to pursue and not enter it merely for the returns on investment. Once you have passion, it's easier to get a venture capitalist to fund your business. I would suggest them to marry their business and make it their first wife (Laughs). It's an industry where you can make your dreams come true.