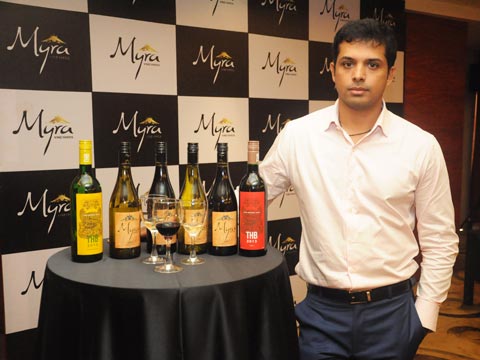 Ajay Shetty founded Myra Vineyards in Bangalore in the year 2011. As an ex-banker, Shetty has worked with some big multinationals like MorganStanley, Merrill Lynch and Daiwa Capital Markets.
Soon after returning to India, Shetty decided to follow his heart and passion to start Myra Vineyards in December 2011 to introduce a variety of quality wines to Indian connoisseur. Myra Vineyards works closely with the farmers to produce the best wine as its quality depends on the grape juice.
At present, Myra Vineyards has made a niche in Maharashtra, especially in Mumbai and Pune, along with Karnataka and the brand have plans to expand across the country in the coming months.
In an interaction with EntrepreneurIndia.com, Ajay Shetty, MD, Myra Vineyards, shares his entrepreneurial journey on what inspired him to take the entrepreneurial path from  a banker:
From a banker to the founder of Myra Vineyards, what motivated you to start a wine brand?
Well, my interest and passion for wine and food drove me to start the wine business. I started my career in banking and worked with some of the leading trade banking companies around the world, but somewhere along I realised my job was monotonous, and that's when I decided to follow my heart. Once the decision was taken, I came to India and met with people from the industry to study the Indian wine industry and consumers and understood the huge potential and growth prospects of it.
Presently, our wine industry is still at the nascent stage. During my research, I met with the leading industry experts like Nikhil Agharwal of Sommelier and Rajesh Rasal of Wine Maker and brought them on-board to ensure our wines are uncompromised in terms of quality and taste. We at Myra Vineyards strongly believe 'wine is for all', our vision and aim is to make our wines available and accessible to everyone in India and make it the new beer.
Since 2013, we have been receiving tremendous response from our consumers and this gives us the confidence to live upto the expectations that we set till now. We are now available in Karnataka, Mumbai, Pune and Goa, and in New Delhi and Puducherry soon, probably by the end of this fiscal.
Is Myra Vineyards a self-funded venture?
Myra Vineyards is totally a self-funded organisation, as a first phase of operations, we invested 5 crores, and further we have made investment towards our winery and hospitality business that are in pipeline, five years down the line.  Myra Vineyards is new to the Indian wine industry and I would like to run it on my own until I find the necessity to raise the money.
What kind of challenges you faced at the initial days of bootstrapping your venture?
I would say, introducing any alcohol, beverages or setting up wineries in India is a big challenge because of the country's strict law and regulations to get license and permits, without which one cannot enter into the trade. And these laws and regulations change from one state to other. Getting into agreements with the state government would take its own time. Yet another difficult and tedious process that every wine maker has to go through in India includes excise, state fee, and pricing and distribution policies. I faced all the challenges as I entered in each new states and cities.
Myra Vineyards works closely with the farmers to produce quality wines, what is the number of farmers that you are associated with?
Our production of wines is through contract farming. Currently, we are associated with four to five farmers, which include three in Maharashtra and two in Karnataka. This kind of format helps in every stage - from making wines to bringing it onto the bar.
What kind of pricing strategy do you follow?
One of our key strategies that help in marketing our wines in India is its price. Wines are either available at high or low price points where consumers did not have choice or options to make decisions on the brands or wines. We have priced each category in such a way that every segment could afford our wines, whether the high-end premium wines or the entry level wines.
What kind of transformational growth the brand had witnessed since its inception?
I personally feel that we were able to give that paradigm shift to the drinking culture in India. We are very happy and we will continue to do this as our aim is to create wine the new beer. Secondly, our entry level a wine Two-Headed Bird was an out-of-box thought and first of its kinds, as Two-Headed Bird is single varietal. This was an untapped market and no one in India offers single varietal at the entry level. We have been a trend setter in the industry, whether introducing innovating products or events or positioning our brand.
What kind of profits do you look to reap in coming time? 
We have been in the industry for last 22 months and it is too early to expect any profits and I am not expecting it in the next 2 to 3 years. Our last year revenue was around Rs 6 crore to Rs 6.5 crore and we are expecting to close at a decent number this year.