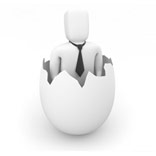 A slowdown is actually a great time to nurture and incubate a small company. Limited resources lead to creative thinking, thoughtful expenditures and better understanding of various aspects of a business. Walt Disney, Hewlett-Packard Corporation and Microsoft Corporation were all started in a recessionary economy. Primarily there are two reasons why a person should start a business during a slowdown. One is that there are lesser jobs in the market and it does not make sense to enter the job market now. It is usually said that there are no opportunities in recession, but that is not true. This period has its own opportunities which need to be catered to. Also those companies which can operate with minimal resources are the one which will be successful. Here are a few reasons that can lead your way to entrepreneurship.  

Aid from business schools
In a contracting job scenario, India's business schools are going an extra mile to encourage entrepreneurship among students by offering space to work from, free accommodation on campus, mentoring services, access to experts, assistance in reaching out to investors and even seed capital. The Indian School of Business (ISB), XLRI Jamshedpur, Indian Institute of Management (IIM), SP Jain Institute of Management and Research, Mumbai are a few names in this category. 


First mover advantage
In a scenario like today, people put on their thinking caps whether it is a good time to start or not. But some ideas cannot wait and need to be acted upon that very moment. If not started when required they become old by the time they are brought out in the market, especially if it is related to the technological domain. So, the payoff for acting fast in a bad economy will be higher than for waiting. Microsoft's first product, a Basic interpreter for the Altair was exactly what the world needed in 1975, but if Gates and Allen had decided to wait for a few years, it would have been too late. 

Get the right people
As a lot of people are laid off during a slowing economy, people who come to work for a startup will be incredibly committed. There are many skilled people who are at this time willing to negotiate on terms and are looking for a secure job; such people should be got on board.  

Funding options available
For an investor, recession should be the best time to put his money to use. Upbeat start ups are more scalable which means lower investment now and greater profits later on. Great ideas and perfect execution in a business will surely attract investment. Larry and Sergey were the first investors in Google and it was this step that paved their way to success.  

Cheaper resources
At the time of recession, the resources are not only cheaper but are also readily available. Labour, raw materials, office space just about everything is available at your disposal. You also have the opportunity to outsource the non-core activities as it helps to get off the ground and move out of the start-up phase. 

Clear cut ideas
A receding economy nods at a brilliant idea and scoffs away a bad idea. This helps you to know whether or not your idea is viable. Also if it fails, it may lead to fewer losses as compared to the amount of money that would have been invested in a normal state of affairs. 

Customer is king
The saying consumer is the king should be put to use especially in a downturn, as you should produce only what is really needed by the customer, as it is only that product that will really do well and not something that is not needed. Arvind Singhal, Chairman, Technopak Advisors always wanted to do something of his own, but after his management studies he got busy with a job. It was only after he got sacked that he thought of setting up his own company. He says, "It is never a good time to start a business in recession unless the business itself is directly focused on recession-led opportunities such as low priced goods and services that may otherwise not exist or some new niches that may emerge." 

Creative marketing
Getting more publicity and saving money at the same time can be of great benefit for a start up. One can look for partnering with start up marketing firms who are looking for business and are willing to provide more at lower costs. All realms of marketing can be used for the advantage of your company.  

Establishing your company
Starting at a time when everything is at a low, can give you enough time to bring your business to a firm ground till the economy recovers. You can carry out enough research, innovate and further improve on your business. Instead of sitting idle and waiting, you can put your time, money, creative skills and resources to their best use.  

Be your own boss
In case you don't like to be led and wish to lead the way, this is your golden chance. Get hold of it, and make it big for yourself.