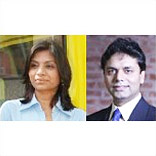 Entrepreneur: Sameer Nigam

Profile: MD & Principal Consultant

Company: StratBeans

An Indian Institute of Management, Ahmedabad (IIM-A) and IIT Kanpur pass out, Sameer worked earlier with Tata Consultancy Services (TCS) in India, UK and US with last employment at Genpact as Assistant Vice President in finance segment.

StratBeans biz model
Formed in January 2008, Stratbeans provides IT services, IT products and IT solutions to Small and Medium Enterprises (SMEs) at nominal costs.

An entrepreneur's idea incited: Sameer had 'entrepreneur' a subject in his course at IIM-A which was taught by an entrepreneur himself, and this is what prompted him to start his own venture.

Initial difficulties
Initial funding of the project was done from his own savings, and he never found any problem in the beginning, as the investments were limited.

For the first six months, no revenues were generated from the business, and the sales model did not look stable. Thus, enough stress was laid on sales part and entire sales process was re-worked.

Future strategy
When started the company in January 2008, Sameer had no idea about economic slowdown as nothing much was talked about it then. Currently, he is facing the affects of slowdown like every other sector and is finding it difficult to source business in India.

Current scenario
To cope-up with the economic slowdown Stratbeans has gone global and services are being offered to SMEs in USA, UK and Australia who are cutting down their cost but don't want to compromise on quality.

Message
The creative impulse overrides all constraints.


Entrepreneur: Sweta Mangal

Profile: Co Founder & CEO

Company: Dial 1298 for Ambulance

After doing MBA from Rochester Institute of Technology, Rochester USA, Sweta worked with Zee, was involved with setting up of malls initially in Mumbai, part of pilot project of TATA AIG Insurance in India and headed Marico's Kaya Skin Clinic in north east.

Dial 1298 for Ambulance biz model
Formed in 2005, Dial 1298 for Ambulance was started to provide emergency services like 911 in the US and 999/112 in UK but without government partnership. The company today, owns a fleet of high tech ambulances fitted with Global Positioning Systems (GPS) and an in-house control room that keeps control on the movements of these vehicles.

An entrepreneur's idea incited: A stay at the US during MBA course and work experience with Fortune-500 company paved the way for Dial 1298 for Ambulance. Sweta always wanted to help the citizens in one way or the other, more so, she belonged to a family having their own business ventures.

Initial difficulties
Capital was one concern as buying new vehicles was a big task, as banks were not offering good deals and dealing with government officers was another big hurdle. Hence, initial investments came from friends and her own savings. Planning out the service charges and appointing MBBS doctors was another daunting task for the company. Currently, they charge Rs 1500 from people visiting private hospitals and concessional rate of Rs 750 from people visiting government hospitals.

Current scenario
Dial 1298 has grown to a fleet of 70 hi-tech ambulances from 10 in 2005. In 2005, it received 10,000 calls and in 2008, 26,000 calls at its control room from people looking for emergency services.

Future strategy
Dial 1298 for Ambulance is looking forward to hit rural areas in Bihar and Kerala through public private partnership.

Message
Give wings to your dream.