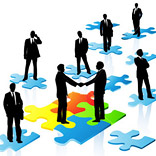 The idea of sharing profit might not sound interesting but a good business partner is a boon for an entrepreneur. From sharing responsibilities to increasing profits, a partner is the one who knows your business as much as you do and shares the same passion.
Unlike a job, where there are fixed working hours, running a business is a round-the-clock activity. There are not just responsibilities to be taken care of but also innovations to be brought in, and amendments to be made. And if you have someone to share all this means half the battle won. A business partner means reduced stress and there's always someone to look after your business in your absence.
However, to avail of these advantages you must choose your partner with extreme care. Nandini Vaidyanathan, a veteran in her area of specialisation and a mentor to start-ups says, "Business is like marriage. So you must choose your business partner as carefully as you choose your life partner, may be more carefully."
"It is best to have a team of three people. Three is an ideal number. The number should not exceed six. Friendship is not the best criterion for choosing your co-founder. All the team members should have complimentary skill sets. Ideally, each partner should be expert in either of these – finance, technology and business development," she adds.
Vikas Rana CEO of Must See India, an online travel portal, which he started with two other partners says, "You have to know your partner really well before you decide to do business together. I started my online travel business with two other people Sanjay Goel and Karan Whokhan. Sanjay is a college friend and Karan was a colleague. Before we got together for the venture we made sure that we had a good professional chemistry with each other."
Complimentary skill set of partners helps in business development. Each partner can take care of their area of expertise, thereby, sharing the burden and growing the business at a faster pace, simultaneously.
A partner, with sound financial background, who can also invest might seem to be the best choice but someone with a strong business network, industry connections, client list or certain credentials might be a better choice. He/she might help your business grow in the long-term and also teach you a couple of things, which you may learn only with experience.
If you look for so many qualities in your partner, be ready that your partner will expect the same in return. Respect, trust and same set of ethics sound obvious but are very important to working together for long.