Understanding ITES opportunities
Venturing the entrepreneurial road in India, may be a rose filled path for some, while a thorny route for others
Tags: ITES
BY Entrepreneur | Mar 23, 2011 comments ( 9 ) |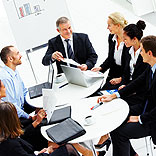 Venturing the entrepreneurial road in India, may be a rose filled path for some, while a thorny route for others. There are certain sectors which reside on a safe haven and are the easiest to penetrate and begin a venture with, one such zone is the ITES sector. With analytical inputs from NASSCOM, we draw a clearer picture for you, about how to move up this sector with a startup venture, here we will talk about opportunities, challenges and scope of growth that lies ahead.
We have numerous success stories to look up to, like TringMe, Inmobi, Sundaram Medicals, Mitra Biotech which represent the huge potential of Indian start-ups. These examples should give you the confidence that success might be tough but not impossible. The graph showing the growth in various IT SME sector, clearly shows that the PCs and peripherals recorded the highest growth of 5.9 per cent in 2010 while the other segments of systems and storage, networking equipment, packaged software and IT Services recorded average growth rates of 3-3.6 per cent. This not only gives a clear indication of the stipulated demand that lies before this industry, but also puts out the scope in the overall IT sector.
Greener pastures
Several Indian organizations in the BFSI-specific (banking and finance) software space have overcome challenges and emerged among the top vendors in banking software products globally. In the Telecom software space as well, Indian organizations have made global inroads and continue to make an impact on the global Telecom industry by providing effective solutions for their requirements. Inspired by the success of these 'global' Indian software product organizations, several new start-ups have emerged in the past few years across categories of software and vertical domains. These organizations are targeting emerging markets (verticals, geographies) with cutting-edge products and applications using new age business and pricing models.
Understanding the ecosystem
Developing domain knowledge is very critical for a SME's to succeed. Apart from that, expertise in understanding your customer-base is again of utmost importance. Many upcoming entrepreneurs develop products without sound understanding of the needs of the customer. Thus, taking customer assessment at a granular level would substantially affect the utility and attractiveness of the product for the customer. For this we require government to actively encourage SME's by providing them with appropriate funding and platforms for incubating their business ideas. Once the funding aspect is taken care of, the upcoming entrepreneurs would be more focused on building on knowledge and dedicating time on research which would greatly impact the development of entrepreneurial ecosystem. Owing to the fact that software product business cycle demands investment and a breakeven period of 3-5 years, the new start-ups are expected to contribute significantly to the revenue over the next few years. With expansion in the emerging markets and SMB segment, these revenues are poised to grow further.
Equity funding and investment routes
Increased VC funding has driven the growth of SME's and start-ups. Since 2004, USD 2.1 billion has been invested into technology start-ups and is estimated to grow to USD 7.5 billion in the next five years according to the IDG Ventures, a global VC fund. Various government agencies are also coming forward to support SME's at all stages. MNCs are evangelizing start-ups and SME's by partnering with VCs and providing free technology. Large technology organizations have India-focused venture funds to identify and fund early stage growth start-ups. Organizations are also looking to outsource services to very small early stage service providers and trying to scale them as dedicated service providers. Some MNCs also have incubation teams that incubate ideas with start-ups to expedite creation of proof of concepts to take-to-market.
Bottlenecks in the path
The foremost challenge faced by SME's is hunting for the right people. There is excellent talent in the core team driven by their belief and passion for the product the quality of talent generally deteriorates as we go down the next level. It gets difficult to recruit good talent due to high risk involved with start-ups. Funding is also another roadblock in the growth of start-ups in India. There is a dire need for developing a right funding ecosystem in India for start-ups to thrive. Reaching out to the right customer-base is another challenge for upcoming entrepreneurs. A lot of start-ups fail to succeed due to the lack of mentorship. Entrepreneurs who have done well for themselves should be encouraged to take up the responsibility of mentoring and nurturing the upcoming pool of talent in start-ups.
(Analytical conclusions, facts and figures mentioned are as stated by NASSCOM spokesperson)
Please add your comment
Suresh C
April 28, 2013 at 1:38 pm
Am interested and would like to someone provide more details
Reply |
Madhu
April 19, 2013 at 9:33 am
Dear sir, Looking for some business opportunity. Kindly let us know if we can take up some business proposal
Reply |
rajender
January 14, 2013 at 3:50 pm
you can send me your e mail address just to send a great business opportunity with no investment. Offer is from a trillion dollar industry of india
Reply |
kura prasad
November 27, 2012 at 7:37 pm
please give information on how to start a iITES/IT ENABLED INDUSTRY BASIC REQUIREMENT
Reply |
dinesh rajput
October 27, 2012 at 5:32 pm
I WANT DO BUSINESS IN IT. I HAVE COMPLETED MY ENGINEERING IN IT, BUT NOT GETTING RIGHT BUISINESS OPPORTUNITY. ALSO NOT A STRONG FINANCIALLY, SO PLZ ANY SUGESSION>>>
Reply |
devasenapathy
September 15, 2012 at 4:04 pm
i am interested to start call project either voice or non voice. kindly provide the company list.
Reply |
Durgesh Shukla
September 06, 2012 at 6:38 pm
I want to start a call center for the Voice and Non-Voice Process where can i get project for this.\r\nI am looking for some company from where i can take projects.\r\nSuggest me any company who will provide me Vendor ship for the work.\r\n
Reply |
Kunal
July 05, 2012 at 12:53 am
Where can we find mentoring company list of different sector\'s, offering for their kind mentorship ?\r\nI am looking for tech-support mentoring company... any suggestions?
Reply |
Fasal
June 20, 2012 at 12:20 pm
wants some business for srinagar kashmir india
Reply |