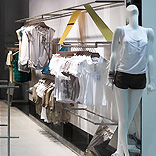 FIFA, IPL and Commonwealth Games are not exciting only because of the adrenaline rush that they cause but also owing to the business opportunity that can offer. With growing health and fitness awareness in developing countries, the market for fitness-related sports, such as running, walking, swimming and cycling has increased. The amount of money that is being spent on sporting events shows a sharp rise.
One segment that has seen more growth than any other is retail. The aspiration to connect more and more with national and international sports events leads to increased spending on merchandises related to these events.  Hence, sports retailing has become a lucrative business opportunity.
The Concept
Sports Retailing is a niche segment of retail which refers to selling of sports goods, equipment, apparel, shoes and accessories. Reebok is one of the biggest players in the segment which sells products ranging from footballs to casual wear, T shirts and footwear.
Apparel and footwear are not the only things that can be sold; bags, sunglasses and other accessories have become very popular. Whether standalone stores, multi brand outlets or online stores every format is able to make money out of the boom in the segment.
Market Potential
A study by ICRIER says though there are no official figures of how large the industry is but according to one estimate, the total size of the Indian retail market was $372 billion in 2008, of which sports retail was around three per cent. However, its share in organised retail was around 10 per cent. Now that is a pretty big share!
Estimates of the sports goods/equipment manufacturing industry is available from SGEPC, which shows that the industry has been growing at an average annual rate of around 10-12 percent in the past five years. India is among the largest sports goods manufacturers in Asia after countries like China and Japan. And with the capacity of consumption of its domestic market increasing the retail of these home made products is sure to rise.
With national and international events of large stature like the Commonwealth Games and IPL being held in such close proximity, the sports retail segment will grow even faster.  The passion for sports and willingness to pay for it is also giving a push to the growing opportunity.
What are the items that can be retailed?
Sports goods are the first on the list. Rackets, balls, bats, sticks etc top the list. Then comes the ancillary products. Jersey, back packs bands and other accessories are next on the chart. Music and videos also sell like hot cakes during the tournament season.
Factors one should take care of
When entering the sports retail segment one should keep in mind the nature of the sports industry, which tends to be seasonal. During major tournaments like World Cup and Asian Games the demand may increase unbelievably and so can it fall during off seasons.
Also, a lot depends on the kind of sport. The demand for cricket and football related merchandise can be really high whereas that for Kabbaddi and Golf might be on the other extreme. 
How good is it for small players?
The opportunities for a small player in this segment are unlimited. A lot of them have already benefitted from it. Recently held FIFA 2010 gave a major push to sports retailing. Numerous online retailers partnered with bigger brand s for retailing sports items. Infibeam, an online retailer based out of India, a part of the Infinium Group ,partnered with Adidas to retail FIFA merchandise.
It is one sector which is far from saturation.  A major reason for this is involves the young population which has a significant purchasing power. No wonder the opportunity it offers is immense. It depends on how creatively you leverage it!