Small format big profits
Kiosk model is fast gaining acceptance as an attractive business format amongst aspiring entrepreneurs, who are willing to explore the profitable business opportunities in this competitive world. 'Kiosk', which is defined as a pavillion with r
Tags: Kiosk, Baskin Robbins, Kwality Walls, Mr Orange, Yo! China, Minimelts, Sweet World, Leonidas, Maxima, Ferns 'n' Petals, Chatak Chaat, Cookieman, Brownie Cottage, Crepeteria, Trenz, Café Big Mo's, Candico, Coffee Day Xpress
BY Entrepreneur | Oct 12, 2009 comments ( 23 ) |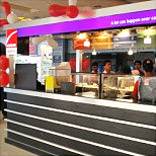 Do you know what is common between Baskin Robbins, Kwality Walls, Mr Orange, Yo! China, Minimelts, Sweet World, Leonidas, Maxima, Ferns 'n' Petals, Chatak Chaat, Cookieman, Brownie Cottage, Crepeteria, Trenz, Café Big Mo's, Candico, Coffee Day Xpress, Big Time, Reynolds's, Today's and Jawad Habib? Well, they all function through kiosk business format and are highly successful.

The kiosk format business is not an alienated concept, but at the same time, not as widely accepted as other formats. It is fast gaining popularity by providing a lucrative opportunity to an individual, who wants to start his own business.

What is a 'kiosk'
'Kiosk', which can be defined as a pavillion with roof supported by pillars, has a Turkish origin, but in English countries, it has been used for marketing purposes like selling newspapers and magazines. According to business research and consulting firm Frost and Sullivan, the total Indian market size for kiosks was estimated at $13-14 million (Rs 62-67 crore) in 2002. The kiosk market is currently growing at a rate of 18-20 per cent, largely driven by the banking and financial sector.

Enter a shopping mall, high street, Railway station or an Airport, you will find kiosks selling popcorns, ice-creams, beverages, fashion accessories, candies, chocolates, bakery, flowers, stationery, gifts items and jewellery.

Starting a kiosk business is not an uphill task. Before starting any business, you should work out on an effective business plan. It will help you to gauge whether the business will be feasible or not. You should plan out the sales and financial targets so that you can observe the performance of your business. One can also take help from a financial expert, who will enable you to draft a business plan. To make your business plan successful, you should study the market well, know your target consumers, select an ideal location, and consider the basic requirements for setting up a kiosk. An individual should have good entrepreneurial skills and required investment to start the business. There are different terms and conditions with regards to area, investment, work force required for the individual, who has the willingness to start the business.

A kiosk model will be a win-win situation for you, if you offer something different and innovative from others. Kiosk model is a user-friendly format, which is gaining popularity with every passing day. It is easy to set up, easy to maintain, requires less space, less manpower and less investment, has more dynamic designs, can be set up in high-footfall areas, from where they can be easily shifted from one location to another, as and when needed.

Kiosk format is very popular in food and beverage sector. But now, it is gaining popularity in other sectors as well such as stationery, cosmetics, gift items, jewellery, IT, and banking.

Vikas Gutgutia, Founder and MD of Ferns 'n' Petals, came to Delhi with a dream to start a flower boutique with Rs 5,000. His friend agreed to finance him and became his business partner. After all the struggle, they both opened their first kiosk shop in Greater Kailash, New Delhi. This is how he stepped onto this format of business with a low investment of Rs 5,000. After the success of Ferns 'n' Petals, the company ventured into the fast food retailing by launching Chatak Chaat format. Taking examples from such brilliant people, one can achieve success in business.

Conducive market research
Before doing any business, it is advisable to carry out a detailed and thorough study of the market. In whatever sector, you want to open a kiosk, first identify your customers and then research about the tastes and preferences and then search out an ideal location for your business.

For instance, if you want to start a food court in a Mall or a high street, you need to be aware of the other food courts present in that particular area. Always endeavour to serve something extraordinary from others. It is better to visit malls, where kiosks are running, observe the design and layout of kiosk, its storage space and the important place to look out for is the location in a mall, where it is actually placed. If you want to open it on a high street, then speak to the authorities concerned in this regard.

Locate ideal location first
Before setting up a kiosk business, one has to decide about taking up a permanent or a temporary location. Selecting the right location to set up a kiosk format is one of the prime requirements for the success of a kiosk business. Apart from opening up a kiosk in a busy mall or a high street; an individual can set up a kiosk in an airport, sporting events and other venues, which will help the individual to gain profits. If you want to open your kiosk in a mall, then you have to speak to the mall administration. They can assist you in providing an ideal location for your kiosk.

Today, the concept of opening kiosks in an airport is also gaining prominence. If one has to open a kiosk in an airport, then one can consult the airport authorities and ask about their lease terms. To open a kiosk on a high street, the individual can discuss with the Municipal Corporation of that city.

The rental of a mall varies depending upon the location of the mall and the kiosk. You can inquire about how to open a kiosk business with the leasing manager of the building. If you're opening a coffee and tea kiosk, try and ask for a limit as to the number of other coffee and tea kiosks they lease within your area.

Amitabh Banerjee, Global Head, Mr Orange, enlightens, "Location is everything. Your kiosk has to be highly visible. It should have a decent catchment area, where people can buy your product."

Commenting on the role of an ideal location, Pattabhi Rama Rao, President of Australian Foods India Pvt. Ltd, elucidates, "Location is paramount to any retail outlet. Since Cookie Man is an impulse purchase product, it's imperative that our kiosks are located in high footfall areas. We prefer to be away from the food courts and floors demarcated for food. Our kiosks are located on the main entry level of the mall in high visibility vantage points." Location is always based on the availability. Open your kiosk in such a place, where you can generate maximum profits and gain attention from public.

Care for customers
While you are selecting a location, always keep your target audience in mind. Identify your customers first, only then you can think about locating close to where your customers are. Once you've found your customers, visit those areas and study what the traffic pattern is. You need to check with the property managers of your target location regarding issues such as product approval and display issues, security, operating costs, cash flow, staffing and lease length.

Kiosks arrangements
There are several types of arrangements in the kiosk businesses. But usually, the prevalent arrangement is that a large chain enters into a franchise arrangement with a smaller kiosk, wherein the owner of the kiosk then sells the products of the bigger company.

In a self-service kiosk, people can use the equipment at the kiosk without the intervention of the owner. Similarly, other types of kiosk businesses differ according to whether they are movable or fixed booths. People run movable kiosk business through a cart, which is moved, while a booth is located on the same premises on a permanent or a semi-permanent basis.

Small efforts go a long way
After making a business plan, conducting proper market research about the location and your target customers, it's time to start the business. Kiosk business is very profitable for a person, who wants to start it with less investment. It's up to you where you want to set up a kiosk. There are a lot of options available in the market.

If a person wants to take up the franchise of a company to set up a kiosk, then it becomes easier for the franchisee to achieve success, but if an individual wants to start his own business, then he needs to consider various factors for starting a business.

Kiosk model works on the concept of impulse buying. Impulse buying is basically an unplanned or otherwise spontaneous purchase. The person who tends to make such purchases is referred to as an impulse buyer. It provides an attractive opportunity to an entrepreneur, who wants to start his own business. Herein, one can gain profits very quickly, but this can only be possible if your kiosk is set up on a perfect location. The way you negotiated terms with the authority concerned, try and do the same with supplier. After receiving merchandise from the supplier, systemise your kiosk in a way that is user-friendly.

Remember you are relying entirely on foot traffic, so the kiosk should entice people. You should be well informed about the product that you are selling. Always try to be courteous to customers.

Visual appeal, design, layout
The design and layout of a kiosk plays an important role in securing the attention of the customer. An innovatively designed kiosk will have a long-lasting affect on the minds of the customer.

Just like Mr Orange, who has designed its kiosk in the shape of an orange. According to Banerjee, Mr Orange has its own manufacturing unit for designing its kiosks, while the other companies present their plan to the manufacturers for designing kiosks.

Brownie Cottage is a self-contained kiosk that is easy on space and designed with a thatched brown roof, donning a Victorian-style lantern. Always try to use new, creative and extraordinary kiosk designs, for it will help you attract customers easily. Keeping in mind the limited space, try to incorporate user-friendly products. The items must be correctly placed within the kiosk. The allocation of in-kiosk space is an important aspect. You must remember to use colour and light to set the tone and mood and, thus, create the kind of ambience that enhances the entire presentation of your goods. Lighting must be used as a sales tool to increase the effectiveness of displays. The merchandise should be presented in a way that helps to influence the customer towards buying from your kiosk.

Investment factor
The investment for a kiosk largely includes the rent of the place and the cost of designing interiors and exteriors. If anyone wants to open an ice-cream kiosk, then investment ranges from Rs 2 lakh to Rs 3 lakh.

According to Banerjee, the investment required for a kiosk is Rs 3 lakh while the area or space required is Rs 64 sq.ft. The ideal dimension of a Cookie Man kiosk is 10 x 10 ft. However, customisation is possible, depending upon the space available.

Ritu Chopra, Corporate Communications Manager, Ferns 'n' Petals, informs, "The investment required to open a kiosk is Rs 2.5 to Rs 3 lakh, if the size of a kiosk is 4x6 ft."

It comes with a rider
Though kiosk is a successful business format wherein an individual can earn profits very quickly by starting up with a low investment, but it has its share of challenges.

There are many challenges involved in kiosk format business, the prominent being the sustainability, securing a good location and selling the product in style. When you are selling your product, you should give proper attention to the customer's demands, while maintaining the quality of your product and focusing on an efficient delivery system.

Promotional strategies
An effective marketing strategy plays an important role in attracting customers to a kiosk. One can distribute brochures, coupons and samples of the product in other areas of the mall, so that it makes it easier for the customer to locate you. Be friendly and always endeavour to be courteous with the customer. An individual should plan out an effective business strategy to beat the competition.

For example, one can open a gifts kiosk during festive seasons like Valentine's Day, Diwali, Christmas and a Friendship Day. In summers, you can open an ice-cream kiosk, which will help you to generate more profits. A good pricing strategy also plays an important role.

A promising format
Kiosk format is a very successful business model for those who cannot open a large format store. It is the best option for promising entrepreneurs, who want to start their own business with minimum investment. It offers a lucrative opportunity for beginners. All you need is a good business plan, right location, minimum investment and a vision to make it successful.


Please add your comment
Brijesh
May 31, 2015 at 12:11 pm
I am interested to this business. Please send me details for this business....
Reply |
sandeep
May 04, 2015 at 1:51 am
hii i am intrested. please send me the details.
Reply |
umesh
April 27, 2015 at 4:39 pm
I am very keen to know more about this business opportunity and would like to set up a kiosk business in Bhopal ,Madhya Pradesh.
Reply |
Raj
April 17, 2015 at 4:54 pm
Hi I want to start this busyness. Please send me detail and all other process also.
Reply |
Ravinder Sharma
April 13, 2015 at 2:48 pm
I am interested ....please send me detail for bussiness
Reply |
manjeetchhabra
March 28, 2015 at 3:58 pm
interested in kiosk franchise for jabalpur
Reply |
manjeetchhabra
March 28, 2015 at 3:57 pm
inteested in franchise kiosk models pls send details
Reply |
Ankit kapoor
March 27, 2015 at 11:56 am
Hlo M from gurgaon m interested in the bussiness plan so what ur requiment invesment and all details about Kioski
Reply |
Hemal Mehta
March 20, 2015 at 4:25 pm
Very useful and helpful information. Thank You . I am from mumbai , if any new mall is comming up and if someone is has space in a mall where i can set up a food joint , kindly let me know . My e mail id is hemal.mehta11@gmail.com
Reply |
Vikrant Tomar
March 11, 2015 at 12:25 am
please send me the details
Reply |
Cheap Nike Free 5.0
March 08, 2015 at 9:36 pm
My spouse and I stumbled over here by a different web page and thought I should check things out. I like what I see so now i\'m following you. Look forward to finding out about your web page again.
Reply |
S.M.Hussain
February 17, 2013 at 5:22 pm
I know more about this business opportunity and would like to set up a kiosk business in my city
Reply |
md sadiq
August 02, 2012 at 5:05 pm
need business support detail
Reply |
Maulik shah
August 17, 2011 at 10:05 pm
i am from ahmedabad, gujrat and i am intersted in your retail outlet let me tell us about investment and profit.
Reply |
anurag
August 08, 2011 at 2:22 pm
I am banking professional in Ludhiana. how this system help me out to start my own venture. i would like to know more practical aspects regarding this.
Reply |
kedar
July 28, 2011 at 10:08 pm
I am interested in this business. Pls send me details
Reply |
binny tamang
July 15, 2011 at 5:31 am
I am from Delhi and interested to set up Kiosk(Franchise) business as soon as possible. please send me all the details.
Reply |
pankajgera
June 01, 2011 at 12:21 am
I am very keen to know more about this business opportunity and would like to set up a kiosk business in gurgaon my contact number is 09999399607
Reply |
Charles
April 05, 2011 at 11:23 pm
Hi, I am from Alwar, Rajasthan. I am interested in this business, send me all the details, what is the investment. charlesdaniel2006@gmail.com
Reply |
priya
January 15, 2011 at 10:52 am
please send me the details. contact member@franchiseindia.com
Reply |
shailesh
December 31, 2010 at 10:20 pm
hi, i m from Surat, Gujarat, i m interested in this business, send me all the details, what is the investment, what is the profit? contact member@franchiseindia.com
Reply |
SACHIN
October 13, 2010 at 8:48 pm
A NEW RETAIL CUM MULTIPLEX IS COMING UP IN OUR TOWN AND SHOULD BE OPERATIONAL VERY SOON, HENCE KINDLY MAIL ME DETAILS OF THE DIFFERENT COMPANIES WHO OPERATE THROUGH KIOSKS IN MALLS
Reply |
Nilabh Verma
May 07, 2010 at 12:36 am
I am interested.. Please send me the details..
Reply |