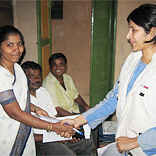 Rural India is being touted as the next hot business destination. Especially with inclusive growth and infrastructure being the prime agenda of the government, rural demand is expected to pick up sharply in the coming few years. Entrepreneurs have begun outlaying their plans to tap this space. We spotted an 'early bird' entrepreneur who has spotted opportunity in this space.
Richa Pandey's story-
Richa Pandey, the founder of E-Jeevika, says, 'As 70% of India lives in villages, training and development of rural youth is indispensable for the development of the country. E-Jeevika started with this objective. We have trained 400 youth so far and plan to train around 20,000 more in 2-3 years time.
Having been close to rural life since childhood, Richa wanted to address the acute skills gap in village boys with innovative training solutions. Her company trains the youth and gets them ready to be absorbed by corporates in cities. The enterprise thus meets twin objectives. E-Jeevika gives the youth an alternative to agriculture and allied jobs and also improves the employability of rural youth vying for better livelihood opportunities in cities. 
But how did she sense the opportunity? 'I know rural life very closely. I was passionate about doing something in rural areas since childhood as my grandfather was a farmer. I was aware that there is a demand supply gap at the rural front and the most pressing pain point is unemployment,' says Richa.
Not only did Richa find a strong need gap, she also did her homework well.                                                                                                                                                                                                                     By 2020 there will be around 47 million Jobs in the Vocational Training space. From the rural space 23 million youth will be available to be trained and absorbed in these Jobs. Thus there is going to be a huge demand for trained and employable manpower in the future.
I am targetting unemployed youth of 18-35 years age. Our HR training system is customized to meet the training needs of rural youth. The trained manpower is absorbed in high growth industries like retail sales, telecommunications, retail sales in insurance and BPOs. 'We have MoUs signed with corporates for supplying skilled labour.
As Richa reveals, 'Working in a village is no cake walk with problems like connectivity, power and fragmentation of rural areas. One has to do a lot of ground work, understanding the socio-economic complexities of the area and simultaneously fine-tuning your strategies on the go. 'One of the challenges E-Jeevika meets everyday is changing the mindset of rural youth who do not want to move out,' she adds.
The rural landscape is highly diversified. So you would have to customize your offerings according to need and acceptability. 'The unique part of our training is that it is provided in regional languages,' Richa informs. At present, E-jeevika operates from 15 centres in 3 districts of Tamil Nadu.
Challenges aside, rural India is the best place to keep costs to the minimum. E-jeevika works with a cost-effective business model. In the absence of state –of-the-art infrastructure, E-Jeevika uses the kiosks of local internet service providers. Richa terms as 'franchisees.'
This is no domain where you can be ruthlessly profit oriented, in a hurry to make quick bucks. One may have to go through a gestation period and allow people to accept and believe in your product or service. What can sustain you is immense motivation, desire to solve a pain point and above all, love for the countryside.