Open your home to tourists
India has always been a land known for its hospitability. There is a long-standing tradition of Indians hailing guests as a representative of God. To that extent, Bed & Breakfast can be seen as just the right avenue to take this tradition forward
Tags: Bed & Breakfast
BY Entrepreneur | Jul 07, 2011 comments ( 14 ) |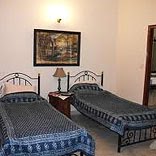 Mrs. Khanna is a widow staying in Vikram Vihar area of South Delhi who runs a PG for 5 girls. For someone like her who has her children settled abroad, she found this business quite viable and profitable till she chanced upon the concept of Bed & Breakfast (B&B). Soon after, she decided to try her hand on it and started building an infrastructure that could possibly help her in starting a B&B. All she needed now was an approval from the Tourism Ministry for which she had to make sure that she had got all the facilities in place. Initially she started with just one room but an overwhelming response inspired her to extent it to two more rooms. Her house being centrally located also helped in attracting many guests to stay at her place.
What is it?
A bed and breakfast is a private lodging facility that offers overnight accommodation and breakfast but without providing any other meals. They are private homes letting out as few as 1-5 bedrooms for commercial purpose. The basic idea behind starting such a facility is to provide a homely accommodation facility to the tourists of a country as also to those coming from foreign lands. It also gives the foreign tourists an opportunity to experience the customs and traditions of a particular place and relish the authentic cuisine during their stay with a family.

B&B as a business in India
The Ministry of Tourism, Government of India started promoting this concept of Bed & Breakfast with a view to increase tourism in the country during the 2010 Commonwealth Games in Delhi. Conceptualising it as Incredible India Bed And Breakfast scheme, B&B has been classified in 2 categories - Gold & Silver. All B&B has to be approved and registered with the Ministry of Tourism, who would further categorize it as Gold or Silver, based upon the parameters it has set.
There is a Regional Classification Committee to inspect and assess the Bed and Breakfast establishments. After getting approved, the Tourism Ministry would see that the establishment gets publicized and also maintain a directory of all such establishments so as to facilitate foreign and domestic tourists. The Ministry is also planning to start a short term training programme for all those who wish to start such an establishment.
Rajat Bhutani who runs The Stay Inn at Saket, Delhi has been into this business for the past 3 years. According to him a good amount of investment goes into getting the right kind of infrastructure before starting a B&B in terms of furniture, proper facilities etc. "But given the kind of ROI that comes to you after some time, the investment becomes quite justifiable. After all, investment becomes indispensable for any business that you start, let alone B&B" he says.
However, there are certain guidelines laid down by the Tourism Ministry that one needs to comply with before starting a B&B establishment in the country.
A B&B establishment can be started only when the owner /promoter along with his /her family is physically residing in the same house and letting out minimum one room and maximum five rooms (10 beds). Since it is a Bed And Breakfast scheme, charges will be levied accordingly.
The visitors are to be informed in advance the type of breakfast to be offered, the facilities offered and the charges levied on every kind of facilities provided.
The establishment has to apply for classification/ re-classification, following which Regional Classification Committee will come for an inspection and evaluation of the place. Based on the mandate of the Classification Committee, the classification procedures would be carried out.
A Bed & Breakfast establishment will be classified along a two stage procedure. The owner of the establishment needs to fill in a Checklist, mentioning the kind of services and facilities offered by him. The Regional Classification Committee would then evaluate the presence of facilities and services against the enclosed Checklist. The quality of facilities and services will also be evaluated by the Classification Committee. It is worth mentioning here that due preference will be given to homes providing Indian experience by way of Indian décor, authentic and exotic Indian cuisine.
To conclude…
A very flourishing business proposition in the western countries, the concept of Bed & Breakfast is still to pick up pace in the country. The fact that B&B is not yet an organised business can be one of the many reasons as to why it is seeing a slackening growth. The excitement has slightly died down post Commonwealth Games but it can be geared back on track if the government takes up the task of channelising this business with adequate assistance. This could also go a long way in promoting the tourism industry in the country.
Please add your comment
Varun Ganesh Shukla
February 25, 2015 at 3:03 pm
Good Stuff.
Reply |
Ggsaxena
January 27, 2013 at 11:17 pm
Webcreater of this page is doing good service of people.
Reply |
Ggsaxena
January 27, 2013 at 11:12 pm
U can\'t run b&b from a vacant house. The owner must b staying in the house
Reply |
pranay
December 02, 2012 at 8:15 pm
i want the details asap!
Reply |
VK Shrivastava
October 05, 2012 at 12:32 am
Very good opportunity to use vacant rooms in my house into B&B. My house is centrally located in Jodhpur,Rajasthan which is itself a tourist place/hub in India. Pl send more details about this project to start.
Reply |
More information would be appreciated
September 20, 2012 at 3:58 pm
Yes i have my own facility in Bangalore which I have given to PG
Reply |
AMIT KUMAR
August 20, 2011 at 10:55 am
I am from patna (Bihar). I had a house in which one floor of 5 rooms are vacant and I am interested in this venture. pls give more details
Reply |
r.kumar
July 28, 2011 at 10:31 pm
Could you give me more details on this, please
Reply |
s k singh
July 21, 2011 at 2:45 am
details please!!!
Reply |
vinay kumar
July 20, 2011 at 11:22 am
is there any franchisee available in this field? details need to be provided.
Reply |
kishore
July 20, 2011 at 8:45 am
would like to venture in to this segment, pl send more info.
Reply |
kapil anand
July 20, 2011 at 2:55 am
I have a house at Panchkula (Near Chandigarh) where my two floors (about 5 rooms) remain vacant most of the time. I am interested to convert them into B&B. Kindly advice.
Reply |
jim
July 18, 2011 at 1:39 pm
plz send us more details about this project.
Reply |
Subhankar Das
July 10, 2011 at 8:56 am
Good opportunity for small capital people.
Reply |