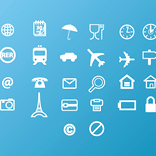 The travel and tourism industry has been bitten by the 'online bug.' The main trigger has been the low investment required in the online domain. Also, there is an added convenience to a traveler for booking tickets, comparing the fare rates and choosing destinations. According to the industry estimates, the online travel industry is expected to corner around 23 per cent share of the total travel market by 2010.
Business Basics
Vikas Rana, CEO, Must See India, says, "Travel portals partner with the ticketing companies, airlines, bus services and hotels to offer the customers the best deal. These portals also enable them to compare the fares and charges so that the customers can choose the one that best suits them." An online travel portal can be confined to providing tickets for airlines, railways or buses, or can enable travellers to book hotels or resorts at their preferred destinations. An online portal can also be the complete one stop information source, enabling customers to plan their itinerary. Additionally, customers get to know the best time to visit a place, major attractions, best hotels, restaurants and other tid-bits.
Business Model
Abhinit Kumar, the co-founder of 90Di a portal which is a search engine for travelers and provides services like booking air, railway and bus tickets furnishing minutest details about a journey says, "We have partnered with the service providers. Our website takes a user directly to the booking sites where they can conclude their booking. We get paid by these booking websites and do not charge the customers any extra money for it.
Similarly, Must See India, also, does not charge the users for booking through them. They are paid by the travel portals of hotels, airlines or bus service providers, whichever area the portal provides its services in. Advertisements are another source of revenue for them.
Minimal Investment
"Online world, as we all know, is not capital intensive. All you require is computer and an internet connection with your vision and dedication," says Rana who started his business from his apartment. Kumar points out that investment also depends on the size of one's team and the cost of office space.
Achieving break-even also depends on your initial investment. That should not be much if you are planning to start small, you wouldn't take much time in breaking even.
Starting a portal also doesn't require a big team. A team of two people can easily handle the business. If you are bootstrapping your business, you can begin business right from your home.
Portal
The portal is the face of your business. Hence, it should be user friendly and interactive.
Kumar stresses on the expertise of the team to operate the portal, well. "A lot of permutations and combinations are required to select the easiest, shortest and cheapest way to travel from one place to another in a country, which is so large and has more than 4000 railways stations. Needless to say, you must have a team that is skilled to operate the portal effectively.
Future
"Growing impressively, the online travel industry in India is estimated to be worth $ 6 billion by 2010. The travel boom, emergence of low cost carriers, proliferation of the Internet and the growing acceptance of e-commerce over the last few years, are key factors that have contributed to the emergence of this sector as a formidable force in the overall travel industry," says Deep Kalra, founder of MakeMyTrip and an industry veteran.