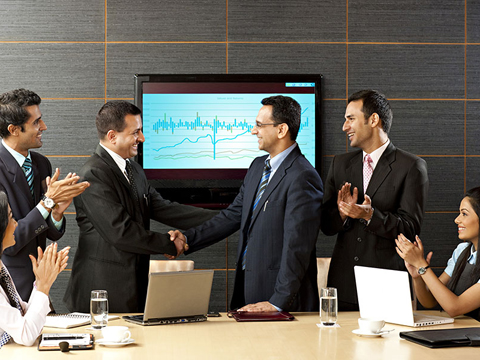 India's B2B e-commerce market opportunity is currently valued at $300 billion and the same is expected to expand to $700 billion by 2020, according to a Walmart report. With this estimated growth of $400 billion in next 5 years, the market presents tremendous opportunities for B2B focused businesses.
From the emerging trends visible in this space, B2B e-commerce is entering a transformative phase. Businesses are adopting the model much quicker than anticipated and a J-curve growth may be around the corner.
Is B2B eCommerce feasible for start-up community?
Online selling of business goods and supplies is not easy for the start-up community. One of the many barriers that would come in the growth path is to build trust among the consumers, whose comfort and beliefs still lie in traditional ways of selling.
Usage of technology is another crucial challenge, as suppliers of business goods have recently started embarking on the online platform. Therefore, the readiness of process and mindset to use technology in selling online is in early stage, which needs to be addressed through better training and hand-holding.
Speaking on the challenges faced, Brijesh Agrawal, Founder and CEO, Tolexo.com, says, "The other important area of focus for us is the supply chain required to distribute the products all across the country. A lot of these sellers are local or city focused so far. Hence, their readiness of process and mindset to sell online and deliver goods is in early stage. This becomes even more difficult with forward logistics network for business goods, which restricts reach, quick and error-free deliveries."
Tolexo.com, the destination for Business Goods & Supplies transforms the way people & businesses buy these products.  It offers consumer shopping experience for the largest collection of products needed by businesses, factories, offices and laboratories.
Tolexo Online was founded in May 2014 by Brijesh Agrawal. It is a subsidiary of IndiaMART which allows end-to-end transactions for office and industry goods. Tolexo leverages IndiaMART's data analytics, marketing reach - both on buyer & supplier fronts. Tolexo also empowers SMEs to do business more efficiently by giving them plethora of choices. The highest transaction value recorded on Tolexo till date has been of Rs 2.5 lakh.Tolexo is backed by investment giants Intel Capital and Bennett & Coleman.
Agrawal shares some crucial tips on what to do and what not to do while starting a new venture in the B2B space:

• A start-up always has numerous problems to solve. Given the limited resources, it is always advisable for them to pick up key solvable points upfront, which can help to get the early adopters.
• The lifetime value of every B2B customer is fairly significant. Hence, one of the key elements to ensure is a great customer experience. Repeat customers are non-negotiable, at any cost.  If a start-up is at a stage where it needs to experiment, it would be good to do so with limited customers, who understand, are aware & willing to be a part of the experiment.
• The most important thing, which is true for every start-up, is to get right people on-board. Spend time in building your team and finding people who understand the B2B space and have a mindset suitable for building B2B businesses.
Evolution of B2B e-commerce space
B2B e-commerce space has been witnessing entry of new start-ups only in the last 2-3 years. Therefore, Indian start-ups in this space are yet to experience the taste of success. Developed countries like US and China have adopted the B2B business model most successfully. The figures predicted by Forrester are evident of their success story. Globally, by 2020, the B2B e-commerce market will be twice as large as the B2C market — $6.7 trillion vs. $3.2 trillion, out of which, China is expected to emerge as the largest online B2B market with $2.1 trillion in sales by 2020.
In US, B2B e-commerce is already twice as large as B2C e-commerce. By the end of 2015, B2B e-commerce sales are expected to reach $780 billion and will represent 9.3 per cent of all B2B sales. Globally, e-commerce is still dominated by B2B transactions and accounted for $15 trillion in 2013, of which, 75 per cent was contributed by US followed by UK, Japan and China.
B2B e-commerce landscape in India
The Indian e-commerce landscape has been dominated by B2C companies until now. While B2C still continues to grow at an exponential rate in India, B2B e-commerce is now gradually picking up.
Till now, the monetary and trust aspect were holding Indian consumers back to trust e-commerce players in B2B space, considering the size of the transaction involved. However, the growth of the Internet and e-marketplace along with accelerating technological product obsolescence has resulted in a hyper-informed and commoditized B2B marketplace. "After US, India is going to be the most important market globally.  The opportunity for growth that India offers is tremendous," asserts Agrawal.
While internationally B2B e-commerce has made a substantial growth for itself through players like Amazonsupply and Grainger, Tolexo is the biggest player in the industry to replicate the same in India with the double digit growth it has been witnessing month-on-month, emphasizes Agrawal.
Lending helping hand to SMEs
Realizing the huge potential of this sector, Prime Minister Narendra Modi had even discussed the possibility of using B2B platforms with Alibaba's founder Jack Ma. Sources say that Ma too backed the model as he considers it as the growth tool for SMEs. This move is likely to give a fillip to the export oriented businesses. Also, with Amazon launching its B2B portal in India, the segment is now expected to witness exponential growth.