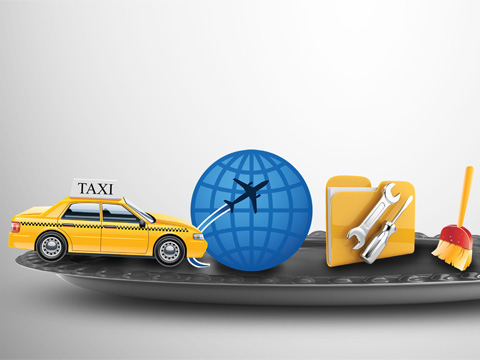 There are emerging opportunities in the business services sector. The last decade has witnessed a huge growth of this sector. An entrepreneur has several options to start in business services like logistics, IT services, financial, travel, mobility and hospitality, domestic cleaning (house and rug cleaning) services, and even advertising and branding. The sector is expected to see growth in coming days.
A Decade of Service Businesses
Talking about opportunities, the first in the line of attractive areas will be financial services. Although equity is volatile in nature, it provides better and efficient returns in the longer run. "It gives around 20 CAGR return. Sometime ago, FDs used to give around 12 per cent return, but now the returns have sharply declined to a mere 8.5-9 per cent. Gold, too, gives around 9 per cent, but equity beats them both and people won't be able to ignore it for long," says Ketan Shah, Associate Director, Information Technology and B2B Business, Angel Broking.
Domestic cleaning services too are coming up in a big way. Offering cleaning (of houses and carpet rugs) services in an organised and standardised fashion in a country like ours seems to be a lucrative business service opportunity. "Finding cleaners today is a big task.
Maid2Clean takes away your worry of getting security checks done on eligible cleaners, while understanding the cleaner's criteria. The process is reliable, and clients can choose not to pay if the cleaner is not as good as they expected. The cleaners would be situated near the client's house," says Mike Hanrahan, Owner & Founder, Maid2Clean.
The clients, as Hanrahan emphasises, prefer to build a healthy relationship with the right lady, somebody that they can trust over for a period of years. Maid2Clean claims to have upgraded the traditional cleaning model available in the Indian market.
From Unorganised to Organised, Organised to Specialised, and Specialised to Personalised Financial and mobility business services have been around for a while and so has IT and logistics; it's the specialised and personalised services (although B2B) such as advertising and branding that have really made the market receptive. The United Franchise Group has brought Billboard Connection and EmbroidMe to the country.
Billboard Connection is an ad agency in a franchise model and EmbroidMe is a promotional marketing franchise from branding concept. Often advertising and promotional marketing services have been misunderstood on grounds of not providing value for customers.
But Daniel Peavy, President, Billboard Connection and EmboirdMe believes: "The companies have adapted to the Indian ad standards through customisation and the experience of the United Franchise Group, having worked in various continents across the globe, is what gives them the knowledge and understanding to work in a diverse nation such as India."
It is not just the multinational brands, but Indian brands are also very conscious about their branding. EmbroidMe comes with a unique concept of branding. One can get the company logos embroidered on a pen, or a shirt, or a promotional product and through them customers can get a consistent professional relationship to help them deliver on their brand.
Emerging Service Sectors
Angel Broking today has over 8,500 franchisees across the country and about 7,85,000 retail clients, which make it one of the top five retail stock broking houses. Financial services hovers around policy decision making process; and with a clear mandate at the centre, the current government will take faster initiatives and make growth faster.
Domestic cleaning companies such as Chem-Dry and Maid2Clean are making good progress due to the rise in everyday labour issues. Boasting of a strong presence in Japan and China, Chem-Dry has tweaked their concept a little in Chennai, India keeping in mind the country's multiplicity and size. "In the service industry like ours, labour is an issue. Consistency, well-trained staff and standardisation of all our services is what you can expect from us," says Joseph Manuszak, Director, Franchise-Sales, Chem-Dry.
Hanrahan from Maid2Clean shares the same sentiment about setting foot in the country and helping to reduce the problems that the women of the country encounter, "We don't have staff because our clients pay directly to our cleaners, so there is no material overhead in terms of staffing costs. Second, we have no cleaning products because our clients provide the generic products. Our cleaners are local to the marketplace, with the same cleaning lady every week."
The company ensures that the cleaners are insured while they are at the client's premises. The systems and processes, as Hanrahan suggests, "should always take away the noise and nonsense and enable people to get on a long-term relationship, one of trust and longevity."
Peavy of EmbroidMe and Billboard Connection was weary if people would really pay for a professionally done sign, and actually found out that not only had the multinational brands' presence grown in India, but the market was receptive and concerned about how the brands were perceived. Based on this knowledge and understanding, the two companies carried their themes.
From advertising to a four billion dollar market, which encompasses all kinds of transportation like buses, cabs, and spot rental services, the Indian market appreciates the right mix of well-defined systems and processes of domestic cleaning services to technological advancements in the mobility and hospitality industry. "Spot rentals, employee transportation solutions for corporate, specialised services for hotels, self-drive business and a better infrastructure is what makes my business one of the most high-return-on-equity businesses," says Rajesh Loomba, MD, Eco Rent-A-Car.
Fortunately and surprisingly, India can be a perfect market for such businesses as the service industry itself contributes 65 per cent to the Indian GDP. However, the industry has shown a growth pattern of 8 per cent per annum when compared with agriculture and manufacturing sectors, whose growth accounts to 3.5-4 per cent every year. The statistics clearly demonstrate the scope of opportunity and where it lies.