Cake decorating business
Cake, a delightful innovation of the West has become the proverbial ladoo, quintessential for any celebration inshore:Innovative decoration, the need of the hour, is not just the prerogative of 5 stars alone anymore
Tags: bakery, cake maker
BY Entrepreneur | Jun 01, 2011 comments ( 19 ) |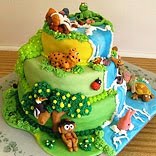 Has anyone ever complimented you, "Your cakes are so beautiful...where do you get them from?" Or you have entered a shop and wondered at the beautiful cakes around you. Or maybe you've been to a wedding, seen and tasted the cakes and thought, "I can do this!"
Well, we have come a long way from the time when cake was just a formality for any celebration. Now, it is a style statement with cake decoration playing an important part along with the taste of cake. With globalisation happening cakes in India have gone a sea change in terms of quality and design. Now, one can get what he wants provided he knows where to go for it.
Cake Decoration business is gaining momentum although it may not be everybody's cup of tea. However, the process is still time consuming and intimidating. There are legal issues as well. Simple mistakes or trial and error cost you in time and money. Once your business is up and running you'll begin to achieve the things you're hoping for.

Bottom of form
In India, there are hundreds of cake shops those make and sell cakes. Here, the business idea is different from them. Cake decorating business owner is a person who himself is an expert in cake decorating and may run his business solely or in collaboration with cake shops. In the latter case, revenue generated can get shared between the cake shop owner and cake decorating business owner.
The skills
Expertise requires knowing all the nitty-gritties of cake making and decorating. So, a hotel management course or an experience of working with noted chefs will help.
Insight
The business is rewarding and satisfying too. One should come into this business if s/he feels the urge," shares Abhishek Trehan of Celebration Cakes & Flowers.
How it was done
Manjit Trehan a retired professional was the man behind Celebration Cakes & Flowers. He started the cake decorating and making shop in the year 2009. Abhishek kumar, son of Trehen is the successor of the cake business who started his career in a domestic call center. At office parties he used to wonder how people get amazed by the beauty of decorating cakes. He worked on the idea of cake decorating business and started working with a friend who owned a cake shop. After some time he acquired the essential skill required to run a cake decorating and making business and joined his father's business. Cake is the most important part of any party celebration and so they chose the name of their business as Celebration Cakes & Flowers.
Starting the business
Shop- 400 sq ft and above.
Investment - Rs 5-6 Lakh (the bread oven costs 3 lakhs and above)
Avg. Break even - 3 years
Margin - 20%
Please add your comment
swapnaliambokar@yahoo.com
April 12, 2015 at 7:32 pm
Please send me more details to start a business. I have dome 3 months bakery cource from IHM mumbai. Also i want to do cake decoration cource.
Reply |
Himanshu Jhamb
August 21, 2011 at 1:24 pm
Yes,I Want to be part of this business,Please Guide
Reply |
Archana Jain
July 29, 2011 at 2:11 am
yes , i am interested in starting the business.Please send me the details.
Reply |
yaswanth
July 27, 2011 at 3:32 am
I dont wanna miss this, plz provide me complete information. plz contact me 9885395695
Reply |
Dilip N
July 26, 2011 at 11:19 pm
I am Interested in this opportunity. Please send across the detailed proposal plan. Thanks & Regards, Dilip N
Reply |
Aman
July 23, 2011 at 12:22 am
I am very much interested in cakes decorating and to have business with fun..guide me
Reply |
Anshul Chaudhary
July 20, 2011 at 5:18 am
M very interested in this .plz guide me further .
Reply |
Jaswinderjit Singh
July 11, 2011 at 5:49 am
Sounds interesting. Please send details and opportunities at Vadodara, Gujarat
Reply |
Trushti
July 09, 2011 at 1:56 am
Interested. Request you to send further details.
Reply |
shrutio
July 06, 2011 at 6:09 am
baking n decorating cake is my passion.i love to do it for my family.turning this passion into a business will be a wonderful idea.pls help with further details.
Reply |
Ravit Goyal
July 04, 2011 at 1:18 pm
Plz email me further details about this business.
Reply |
Anand
June 28, 2011 at 1:56 am
We are interested in starting this business.
Reply |
ritika khandelwal
June 25, 2011 at 9:21 am
i am interested in starting a new business but in less investment as we are in fast growing city.that'll be beneficial for you to invest on us.
Reply |
maulika joshi
June 25, 2011 at 5:59 am
Pls provide the details. i m interested in opening a cake shop.
Reply |
alexander jonathan
June 25, 2011 at 12:14 am
i want to start new business call me 9003422759
Reply |
bhanu parwani
June 18, 2011 at 7:45 am
this is bhanu from varanasi,will u help me that how to start cake business? call me @9838087895
Reply |
Benjamin
June 03, 2011 at 12:35 am
I want to start cake decorating business in pondicherry. please give me details.
Reply |
Amit Shital
June 03, 2011 at 12:09 am
Want to know more details & do you have branches in mumbai.
Reply |
maitri maheshwari
June 02, 2011 at 10:11 pm
yes i am interested in such kind of business. pls contact Maitri 9898995233 ahmedabad
Reply |