A Foodie Opportunity for Startups
A look into how being a foodie can be a great business opportunity
Tags: A Foodie Opportunity for Startups
BY Entrepreneur | Dec 28, 2009 comments ( 12 ) |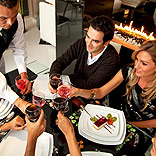 It is not just the fun of eating out but sheer necessity which is driving people to food joints. With fast moving lifestyles and more and more women entering the job market, the traditional system of three-meals-a-day seems to be waning away and more so food cooked at home. A restaurant at every corner, a kiosk in the malls and petrol pumps, home delivery services all these are a result of the changing habits of the consumer. Hoteliers and others in the F&B industry say that inspite of innumerable people into the business a lot is still untapped and the potential is immense.
India being the largest producer of food contributes just 1.5% to the international F&B industry. Even a study done by Alibaba.com in association with Synovate on the industry growth of various industries in the SME sector says that the food industry will grow by 89% in 2010.
Business Basics
Now that you are convinced with the potential of the industry and have thought of starting a food business, you need to decide on the model you want to work with. There can be three models of this business that you can follow. All three are tested and successful in their own ways.
The first model is some place where people can come, sit and have food. This is the model which all the restaurants follow. The second is a take away service something like a kiosk or a small window on a petrol pump or shopping malls. Here people can come, take their packed food and get going with their work. The third one is a home delivery service something similar to a dabbawala.
All these models have their advantages and disadvantages.
Model I:
The first one is a tested model and a very popular one. If your food joint happens to be in a market place or in an area where there are lots of offices you are sure to have customers. But the disadvantage of the model is the huge initial capital that is required to set it up. Apart from the furniture you will also have to either buy or rent a place.
Model II:
The 'take away' model is very well suited for the present day lifestyle. Since it is a take away system you do not have to spend much in the set up. Depending upon the kind of food you are serving, your packing should be such that it is not messy for the customer. Packing food like burgers and pizzas is easy but it is not very easy to pack Indian food. There will also be limitation on the kind of dishes you can serve. You will have to specialize in one or the other variety which means tougher competition.
Model III:
This is the model tried successfully by dabbawalas. Most of the time your customers will be limited to people living away from home and students. With the modern day life style and more and more women working, you can also target office goers. The initial capital will be minimal and your business will entirely depend upon the quality of food and service that you deliver.
What to serve:
A great deal of market research and introspection has to go in before you zero in on what you are serving. Ashish Kapur, the founder of Yo China says, "Chinese food is something that most people couldn't cook at home when we started. Secondly, innovations can be created. Some of the innovations that have been created in the Chinese food are Dimsum and American Chopsuey." Jayaram Banan, the founder of Sagar Ratna, the chain of South Indian restaurant says, "I belong to South India. So this was the obvious choice for my business."
An eating joint outside a college or school should cater to the young tongue and serve burgers and sandwiches while one in the residential areas should meet the requirements of the family and serve full fledged meals.
Innovation:
Innovation, like in any other business is a must for the food business also. But for a food business it is all the more important because there are already innumerable competitors and to create a space for oneself is not very easy. Whether it be KFC, Mc Donald's or the local food joint of your locality all of them have made some innovation to be in the business.
With health becoming one of the primary concerns in present times and also in days to come, a health food service is surely to be noticed. One such innovation was done by Cyrus Driver the founder of Calorie Care. Calorie care is a meal service which delivers meals that are calorie counted, nutritionally balanced and fresh right at your doorstep. Driver says, "I realized that there are no healthy eating options in Mumbai for health conscious executives. I needed meals that were healthy, creative and customized to my needs. That led me to the idea of starting Calorie Care."
Team
A food business can either be started in partnership or individually. But good cooks should surely be a part of your team. Your team should have a passion for hospitality, to derive pleasure in making others happy is not a quality possessed by many.
Please add your comment
sanjeev shukla
September 02, 2011 at 5:17 pm
please tell me how to start a food business .which food company is good for me and how i will approach for franchisee.
Reply |
Poorti Nikam
August 08, 2011 at 4:31 pm
I want to start food chain.could u plz tell me, the max and min investment for it and which food company is good and how I approach to the company?
Reply |
Digvijay Sangwan
July 19, 2011 at 9:35 pm
I AM RESTAURANT MANAGER IN A 5* HOTEL IN DELHI AND HAVE KEEN INTREST TO OPEN A RESTAURANT(DINE IN & TAKE AWAY) IN MANESAR, COULD YOU PLS SUGGEST, HOW MUCH DO I NEED TO INVEST IF IT IS A FRANCHISE, AND WHT IS THE LEVEL OF SUPPORT PROVIDEDED BY FRANCHISE.
Reply |
mayur kapkar
July 15, 2011 at 8:01 am
wat would b d minimum and maximum investment in starting food chains???
Reply |
binny tamang
July 03, 2011 at 7:01 am
I like to open Yo china take away please advise me how much it will cost me.
Reply |
atul balhara
January 13, 2011 at 7:30 am
looking for starting a food outlet in partnership in the same. contact member@franchiseindia.com
Reply |
koteswarRao
December 10, 2010 at 2:01 am
i really like what you said, can you suggest me if i have to start my own food chain what should be the starting point and how much should i invest in this newly business contact member@franchiseindia.com
Reply |
satish
August 10, 2010 at 12:47 am
information provided by you is so good. i want to start a small retail chain of food stores.
Reply |
Minal Patole
May 12, 2010 at 1:45 am
I wish to start up a small business in any one of the following -- 1) Hotel. 2) Clothing. 3) Imitation jewelery,fashion accessories. I do not have own funds & looking for an investor who has trust & faith on my hardwork & dream of an independant enterpreneur
Reply |
MUNISH PRABHAKAR
April 21, 2010 at 3:42 am
pls gie me good suggestion as i have less capital to spend aprrox 4 lacs
Reply |
imran majeed
March 09, 2010 at 11:35 am
i like what you said,please tell me how to start a food business .which food company is good for me , and how i will approach for franchisee. thanking you! imran majeed.
Reply |
sunil yadav
March 01, 2010 at 10:04 am
i really like what you said, can you suggest me if i have to start my own food chain what should be the starting point and how much should i invest in this newly business i don't have financial support from family. thank you sunil
Reply |