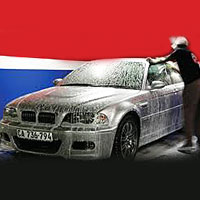 It is time to bid adieu to those classical car wash units and start a car washing business that gives a blended taste of professionalism and world class services. In a fast paced society like today, everyone would like to get their car cleaned in the shortest possible time by a professional car washer while they relax over a cup of coffee and see their car being cleaned and polished. Car Polishing and washing can be the next big thing.
What is it about?
Car washing and polishing involves washing, cleaning, drying, polishing, detailing, servicing or otherwise providing cosmetic care to vehicles.  However, it does not include motor vehicle repair. Car wash businesses offer various types of services which include full service, self services, automatic polishing and manual polishing. It uses a number of techniques and ingredients starting from mild pressure, hot water, steam, foam detergents and liquid wax that will give the car a dirt free coating. However, the techniques and equipments used by different car washers may differ.
Related: Start a car-wash business
Car Wash as a Business Prospect
Car wash can be turned into a profitable business, provided one does some exploration and elaborate research into the business aspect of the job first. One might also need to visit some car wash establishments and see how the actual work takes place. There are different car wash business models available and it is important to single out a model that best suits one's investment as well as his business plan.
 Since car washing is something which is more common among high profile customers owning costly cars, one should ensure to figure out a location at any of the posh residential areas of the city or even an area that is prone to heavy traffic.
 Investment becomes the lifeblood of any business and so is the case with this venture. If properly planned and implemented, the ROI can go really high. Says Anandan Seldi, spokesperson, CarWash India, "Your investment will be in line with the kind of infrastructure and the location that you zero on to set up your business. Like we started our business 2 years back and we do normal washing of cars and bikes. So we do not require a very complex infrastructure for that but we are slowly thinking of scaling up our business by bringing in newer technologies and methods." She concludes on a personal note saying that it is also important to acquaint oneself with the newest technologies in this business in order to keep ahead of others and keep the business going.
It is also possible to apply for loans from any of the banks, if in case finance is required. But it is essential to work on an elaborate business plan for that as has been made mandatory by most of the banks. Only after the business plan is reviewed minutely, will the bank decide whether to give a loan or not. In case banks have doubts about the feasibility of the plan, they might refuse to lend at times.
Way ahead...
Though Car wash job has not gained much prominence in smaller towns and cities, it is gradually evolving into a business that many are seen starting it in metros and big cities. Also, increased influx of costly cars in urban areas is opening up new avenues in this area. People who have invested huge sum in buying their choicest cars will like their cars to be taken care of and washed by professionals on regular basis and this is why the trend is slowly picking up. The most important being water, which is a perennial problem in many metros in India.
Nevertheless, it is not long before this business becomes an organised one and enjoys a similar status as that of any other organised business in the country. But it is not without any challenge either.