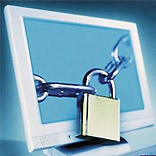 Network security is a major issue for enterprises these days. With business expanding and critical data being transferred through the Internet, it has become very important to secure your company's network.
On installing anti-virus software in a computer people tend to think that they have secured their system. But not all viruses can be detected by anti-virus software.
There are two ways in which a virus reaches a computer. First is generally through an attachment with an e-mail and second is from computer to computer without the knowledge of the user. When a virus-attack is through an e-mail the user comes to know and the antivirus installed in the system can come to his/her rescue.
But in the latter case the worm or virus finds a computer that has lower security settings, and gets into the system without the user ever knowing what is happening. This is the case where anti-virus software does not help but a firewall does.
A firewall can be a hardware or software that identifies and blocks unwanted traffic heading towards your system. The unwanted data can neither move out nor come in to the system. The flow of data can be controlled by the settings of system administrator, which basically means that you can decide what data should go out and what should come in at the time of installation.
"A firewall mainly comes in handy when you are doing e-commerce or e-banking and have to enter sensitive data like your credit card number on the Internet. By doing this you can prevent the data from going to the wrong person. This is a way to protect your privacy and be safe from cyber crime," says Abhishek Mishra, Head of marketing at Astroyogi, an e-marketing company.
There are quiet a few vendors for firewall. Cisco, NetScreen, and Network Associates are vendors for firewall and have special packages for small and medium businesses. Some even charge according to the number of desktops on which they install it.
It is not always that one has to get an external firewall. Windows Vista has a full fledged firewall application in it. The application can be turned on by default and should be left undisturbed unless being replaced by another firewall. "Windows XP also has a firewall though the one that comes with Vista is better. The one with XP only checks the incoming traffic and not the outgoing," says Mishra.
An executive from Sapphire, which provides IMS service said, "A firewall can cost anywhere between Rs 3,000 per desktop to Rs 2 lakh depending on the service and the package that one chooses."
So tell your IT manager to choose the firewall package that you need and check if you already have it.