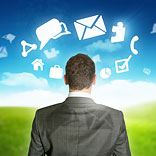 The year 2009 saw India earning the highest 'return on collaboration' investment, when it came to adopting unified communications and collaborations among companies. However, the country has the lowest average spend on UC & C. India's nearest competitor, China, is embracing UC & C in a big way. As many as 89% used some form of VOIP as their primary phone service.
This startling fact was revealed by a study conducted by Frost & Sullivan jointly with Verizon Business and Cisco. The study was conducted for a second time to determine a model for measuring an ROC, and the impact of IP enabled advanced collaboration on business performance. The first study was conducted in 2006 to find out that collaboration is a key driver of business performance. However, India and China were not a part of the first study.
Phanindar Sama of redBus.in shares,  "Unified communications allows sending message in one medium and receiving the same message in another medium. For example, a voice message can be converted to email, if customer doesn't have access to voice message but to email at that moment in time. This drastically reduces communication time because message didn't have to wait for the customer to have access to voice, and thus enhances productivity. We are excited about the technology."
Driver of productivity                                                                      
Unified Communications has two levels of productivity:
Micro-productivity means that individual users can save time by doing their jobs by accessing both people and information more flexibly and faster. Users can switch more easily from just leaving a message to real time instant messaging from person-to-person voice calls to multi-party voice and video conferencing.
These capabilities become more effective as "multimodal" endpoint devices become commonplace or as mobile handheld devices (smart phones).
Macro-productivity means the ability to achieve greater business process (task) performance by all involved --individual users as a group. The more people involved in a business process that can realise micro-productivity through unified communications, the greater the level of macro-productivity performance that can be achieved by the business process. It follows then that the value of unified communications to the enterprise in improving productivity will be highly dependent upon both the role of individual users and the value of the business processes in which they participate.
Impact of UC 
CEOs, COOs etc look for a way so that it has a direct impact on the bottomline such as:
A simplified contract-to-order process
Eliminating time consuming jobs in purchase.
Elimination of order rejects
User-centric UC
The above mentioned full-featured UC encompasses voice, unified messaging, presence, video, conferencing, web collaboration, mobility, office apps integration and business process integration. All of this may seem too high to come by for an SME, but uptake of all these features is an increasing reality among midrange, and even smaller companies, thanks to the affordability of some solutions — in turn, a function of their simplicity.
Another feature of user-centric UC is its anywhere-access. Whether at home, on the go, at a hotel, airport or restaurant, SMEs can take the cost out of business and be more responsive to customers by being able to communicate and collaborate on their choice of device, with multiple case-based call-handling options and presence management
Or you could go back to struggling … the alternative is a life with multiple, un-integrated communication and collaboration channels
Mull over how many outbound calls you make in a day, how few of these are answered, how long it takes for them to be answered and the time your people spend looking for other numbers or leaving voicemails
Now consider the number of in-bound calls your staff field every day, including unsolicited calls, missed calls and call transfers. Multiply this by your number of employees, and you'll understand that you are far better off with UC and its productivity, accessibility and control.
Architecture is central to UC
Architecture, vital to ensuring the benefits of UC are accessible to companies of all sizes. Its effects filter through to every feature and benefit, drawback and consequence of UC. Customers must choose a vendor with demonstrable simplicity of architecture, low total cost of ownership, standard full-featured functionality and free choice between a full range of devices.