Taking the Wi-Fi route
Cost effective Wi-Fi is a boon to SMEs
BY Entrepreneur | Apr 28, 2011 comments ( 0 ) |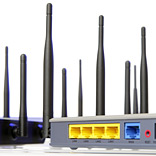 IT has become important in every field more so in businesses be it small, medium or big. Unfortunately, SMES that thrive on shoe string budget find it very difficult to install expensive IT devices. WI-FI at this stage can be a cost-effective alternative. The cost of WI-FI can be 1/10th of the wire connections. For example: if there are 100 employees working in an office than the cost can be dearth cheap in comparison to installing 100 wires. Wi-Fi is a shared connection and wireless and its usage in manufacturing sector is immense.

Other benefits:
LANs can be deployed without cabling, typically reducing the costs of network deployment and expansion. Good for outdoor spaces where cables cannot be run
Wi-Fi silicon pricing continues to come down, making Wi-Fi a very economical networking option and driving inclusion of Wi-Fi in an ever-widening array of devices
Wi-Fi, including Wi-Fi certified products are widely available in the market
A mobile client station such as a laptop computer can move from one access point to another as the user moves around a building or area as it is wireless
Wi-Fi is a global set of standards. Wi-Fi client works in different countries around the world
Widely available in more than 250,000 public hot spots and millions of homes, schools, corporate and university campuses worldwide
WPA and WPA2 encryption are not easily crack able if strong passwords are used
New protocols for Quality of Service (WMM) and power saving mechanisms (WMM Power Save) make Wi-Fi even more appropriate.

Now, if you are ready to install the Wi-Fi, follow the steps:

Installing Wi-Fi
Finding the icon on your computer (on Windows, you'll find an icon that looks like 2 computers in your taskbar on the bottom right; Macs will have a wireless symbol in the top right).
View available Wi-Fi networks by either right-clicking the icon and selecting "View Available Wireless Networks" (Windows XP) or left-clicking the icon and selecting to "Connect or disconnect..." (Windows Vista). On Mac OS X and Windows 7, all you have to do is click on the wi-fi icon to see the list of available networks.
Choose the network to connect to by clicking the "Connect" button (or just selecting it on Win7/Mac).
Enter the security key -- if the wireless network is encrypted (with WEP, WPA or WPA2), you'll be prompted to enter the network password or passphrase. This will be stored for you for next time, so you'll only have to enter it once.
On Windows 7, select the type of network this is -- Windows 7 automatically sets up security for different network location types (Home, Work, or Public).
Start browsing or sharing! You should now be connected to the Wi-Fi network; open your browser and visit a website to confirm.
Tips:
Make sure you have a firewall and updated antivirus software.
In Windows XP, make sure you have updated to SP3 so you have the latest WPA2 security drivers.

Some wireless networks are set up to hide their SSID (or network name); if you don't find the wi-fi network in your list, ask someone at the establishment for the SSID information. If you are able to connect to the network but not the Internet, make sure your network adapter is set to automatically get its IP address from the route

What you need :
a wireless network adapter installed on your laptop