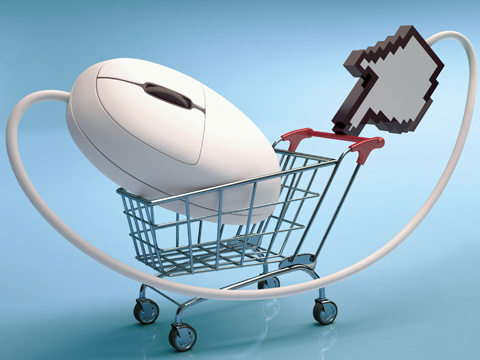 The Indian retail market is projected to reach $543 billion in size by 2014. Besides, the present estimated value of the India retail market is about $500 billion and the same is expected to touch $1.3 trillion, according to a report by Amity University.
At present, the Indian retail sector contributes nearly 20 per cent towards India's GDP and 8 per cent in total employment. But the industry is still highly fragmented. Almost 90 per cent of the industry is dominated by unorganised or traditional retailers, which includes mom-n-pops stores, kirana stores, food and grocery shops etc. 
Analysing the current trends, the industry is certain to witness a significant evolution from conventional retailing to modern and organised retailing in future.
Opportunities for entrepreneurs
The burgeoning retail industry provides enormous business opportunities for entrepreneurs who earn their livelihood in this sector and dream to build a successful enterprise in the retail segment. The industry has been over-crowded with plethora of players in the last few years – be it in apparel, healthcare, food and grocery or any other segment. The emerging trend reflects that new entrepreneurs, who take birth in retail domain, are specifically targeting niche customers for their offerings.
HealthKart, a Gurgaon-based niche eCommerce player in the healthcare space, is betting big on the multi-billion health and nutrition market in India, since increasing number of people are now going online to buy products like health supplements and testing kits.
Sharing his views on the scope of growth for speciality players in the market, Prashant Tandon, Founder and MD, Healthkart, says, "When we talk about health, lot of customers look for solutions like hair loss, skin problem, etc. So, it's about designing a product that engages customers. Though, the products and services are also offered by the horizontal players in the market, but speciality players are still dominating this space. It is also very crucial to gain customers' trust. Hence, as an organisation, we work directly with brands and control the entire supply chain. Unlike big players, we do not involve in the discount game for profitability."
According to the experts, speciality players should always focus on creating value addition for customers through differentiation strategies. Creating a smooth and delightful customer experience is the most important thing for niche players.
Delhi-based FabFurnish, which retails furniture, kitchenware and home décor products online, was started by Vaibhav Aggarwal, Vikram Chopra and Mehul Agrawal in March 2012. Speaking on how to create differentiation, Chopra says, "The most important thing is to analyse customers' expectations, create a new experience for them and how to respond to your customers. The whole supply chain and logistics differentiates us from the larger players."
Bangalore-based BigBasket.com is yet another start-up in the online food and grocery space. The start-up is also present in Mumbai and Hyderabad. BigBasket.com has shown huge growth potential and is aggressively planning to expand its presence in major metro cities in the country.
The two-year old online grocer has incorporated over 10,000 products and more than 1,000 brands in its catalogue. The firm has recently received Rs 200 crore in funding from venture capital firms like Helion Ventures, Zodius Fund II, Avendus and other existing investors.
Evolution of a more matured eCommerce ecosystem in the country has created a strong demand for start-ups offering logistics and distribution services. Emerging start-ups in this space are developing various logistics' models for different types of products.
Delhi-based Holisol Logistics Pvt Ltd is looking to expand to other parts of India, including Mumbai, Bangalore and Kolkata. Founded in 2009 by Rawat, Manish Ahuja and Anoop Raizada, Holisol provides logistics solutions to traditional retailer and eCommerce businesses. Its solutions include consulting and design for eCommerce, distribution modelling, transport packaging and logistics optimisations, among others. It also provides warehousing material handling systems, operations process design, inventory management, pick-up, customer delivery, distribution management, customer and supplier order management, international freight management and ERP implementation support.
Challenges faced
Sharing his views on the challenges faced by niche eCommerce players in terms of raising fund for their business operations, Vikram Gupta, Founder & Managing Partner, IvyCap Ventures, says, "The challenge is fund economics. Typically, the fund works according to the economic structure. If the fund is of Rs 300 crore, then it becomes very difficult to provide other resources and support required to start a business. That is the reason we see shortage of funds. One needs to have an integrated supply chain, technology and people in order to succeed."
Other challenges that an entrepreneur faces in the retail sector, includes lack of skilled labour, uncertainty in industry status and unfavourable policies, which ultimately leads to delay in the whole mechanism and inappropriate planning in the business operations.
Atul Gupta, Principal, Premji Invest is of the view that key business metrics should move in the right direction to attain the path of profitability. "In the entire entrepreneurial journey, till the niche players become established players, they have to walk through the burning coal because they put their hard-earned money at risk," he adds further.
Keeping in mind the challenges that exist in this space, the industry has, on the other hand, seen a significant amount of investment coming in from venture capitalists because India is considered as one of the emerging retail market across APAC.
Further, increasing penetration of mobile internet, fillip in the purchase of smart phones, traction of consumers towards online shopping, discounts offered by eCommerce players attribute to the growth of this industry.
Investors' perspective
According to a recent report by Mint Research, investors have invested almost $2 billion into eCommerce space in India and they are expected to invest additional $1 billion before December 2014. The additional funding will certainly reduce the pain of start-ups struggling to raise funds for their business operations.
"Our first domestic fund was Rs 50 crore and 70 per cent of our first fund has already been deployed. We have done six investments so far. We invest in spaces like healthcare, eCommerce, technology, etc. We typically invest in the form of Series A and Series B," says Gupta.
On the other hand, Tarun Davda, Director, Matrix, shares, "We invest largely in consumer tech and mobile space. We largely do Series A investment, which is institutional investment. We spend a lot of time on R&D like who is the founder, why he is starting a business, what insights they have on the particular business model. Investors always scout to make investment in ventures, which are likely to generate cash."
Speaking about the criteria of investments, Gupta, says, "We do growth stage investments. Before making any investment, we ensure that the path of an entrepreneur is clear. An entrepreneur needs to think how he/she can innovate the business model via customer acquisition or through omni-channel."
To conclude, we can say that, eCommerce has opened new doors for young turks looking to venture into this industry. But one should have an eye for retail in order to leave his mark in this space.