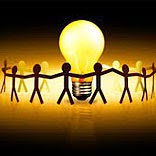 Dell has recently introduced a new leasing and financing program for Indian small and medium enterprises (SMEs) intending to facilitate small, medium and large commercial businesses to preserve capital, maximize IT investments, drive innovation and further scale up their operations.
Scaling up business
We all know that small businesses have constraints when it comes to investing in high-end IT infrastructure. An SME entrepreneur doesn't have enough time, enough money and enough resources. Given the real-time information exchange and connectedness without compromise expectations of what we call the virtual era, there is a sea of change underway in how growing businesses connect to and access business data and applications. Plus, the value, volume and velocity of customer data being accessed is accelerating, causing IT managers to rethink their people, processes and procurement strategies. With dedicated SMB specific offerings, not just for products and solutions but also for the service and support, Dell remains committed to offering simplified IT solutions that free up time and money to foster growth and innovation in the SMB segment.
In order to help SME industry, Dell has added significant depth to its offerings, focusing on solutions that are open, capable and affordable. From the boardroom to the backroom Dell has introduced products that are tied directly to SMB technology needs, drawing on close relationships with the customers to better serve their evolving businesses. Dell offers end-to-end personalized solutions and design according to the needs of SMBs, which includes tailored open-standards based products and solutions that help in managing IT infrastructure; security servers storage or networking virtualisation system management cloud computing to help businesses thrive in the virtual era where multi-media content, multiple access points and devices are the norm. Dell this month has introduced a new server, storage and networking offerings.
Changing phase
There has been immense change in the way SMEs are now accepting technology. They are much more aware of the benefits technology brings to their business in helping them compete on a global scale. They are looking for trusted IT partners to help them stay productive and competitive. Dell sees tremendous opportunity in the SMB segment and has an unparalleled understanding of their unique technological needs. In fact, according to recent industry reports, India has 7.6 million SMBs. There is an opportunity and headroom for Dell to grow in this segment as small and medium business owners continue to seek the right technology for their growth. SMBs cross a wildly diverse set of industries, sizes, and offerings, each with its own unique objectives and visions but they share the desire to succeed. The challenge is to make IT a true contributor to that success, not an inhibitor of it.
Dells offering for SME
The volume, velocity and value of SME data is creating a need to change the way they manage people, processes and procurement. Dell has launched Dell Financial Services India (DFS), a leasing and financing program for small, medium and large commercial businesses and public organizations in India, to be provided by Macquarie Equipment Finance, the leasing arm of the Sydney-based Macquarie Group, a leading international provider of banking and investment services. The program will help customers preserve capital, maximize IT investments and drive innovation. Responding to customer needs, Dell offers outstanding financing options including: Low interest rate and promotional financing on key Dell products; Asset-management solutions to maximize the technology investment throughout the asset lifecycle; Comprehensive buy-back & re-marketing capabilities; Environmentally-safe and regulatory compliant disposal alternatives for retired equipment; Online asset management tools; and Customized billing for cost allocation. These features will help customers transition to web-enabled solutions from placing financing orders and viewing documentation to obtaining reports and other information.