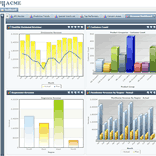 As a business owner you know how crucial organised and centralised data is for the decision making process especially, at the top management level. Imagine the most important information that you need for your business - arranged and displayed on a single screen so that all you have to do is monitor and analyse! Yes, that is the latest in business intelligence –Business Dashboard.
Like the dashboard on a car tells the driver the current state of the car's operations: current speed, current amount of gas in the tank, etc, the digital dashboard tells a business owner, the current state of his business.
What is a business dashboard?
A business dashboard or a digital dashboard is the visual display of important data needed to achieve one or more objectives of a business, consolidated and arranged on a single screen, so that they can be easily monitored.
The dashboard can give you the summary of different arrears & industries which are important for you to monitor like, finance, sales & marketing, telecom, hospitality, construction, port, automobile, retail, pharmacy and airlines.
"It helps an organisation achieve its goals by monitoring it's performance against it's objectives. Used and deployed correctly, a dashboard can align an organisation or team, focusing everyone's efforts on common goals and ensuring visibility of performance and allow tracking of the organisations key performance indicators (KPI's)," says Sanjay Patel, Director, dMine Business Dashboard.
How does it help in business?
A Dashboard will allow you to create, monitor, collaborate and schedule Dashboards for Analytics, Organisational KPIs, balanced scorecards, sales dashboards, performance management, service monitoring consoles, operational metrics and MIS.
It enables organisations to monitor their business performances closely with industry standard metrics and benchmarks. According to Mr Patel, dashboards can be used in any businesses be it manufacturing, retail, insurance, banking / finance, media and entertainment irrespective. For example, in the manufacturing industry, decisions may focus on resource allocation optimization and waste reduction, as supported by the Lean Manufacturing Methodology.
He adds, "For small businesses, it is important to solve business problems at a price that makes sense. Beauty of the Dashboard solutions is, it can start small and grow big in your implementation does not require traditional way of deploying heavy and costly Business Intelligence tools. Hence it perfectly suits well for the SMEs / SMBs also all this at an affordable price."
Advantages of using a dashboard:
The data can be displayed in the format you prefer. You have all the choices you want tabular, graph, pie chart, single metrics, graphical trend analysis, capacity gauges, geographical maps, percentage share, stoplights etc.
The biggest advantage of a dashboard is effective sharing and communication of information which leads to effective monitoring of business operations and facilitates better decision-making process.
Another advantage of an executive dashboard that technology team will not have to make any extra effort to incorporate this application. The dashboard can run on any compatible browser with adobe flash installed. Some of the recent dashboard products use latest technology to get the best results and this increases the costs of these products. But there are many which use open source technologies as well as rely on existing technology infrastructure of the customers and thus help in reducing the investment costs for customers.
It is an easy to use technology. There is no need for you to learn any new application. All you need to know is how to click. Dashboards use Rich Internet Application UI and have features like drag and drop.
Where does the data displayed on a dashboard come from?
The data shown in the Dashboards may come from multiple data sources of the various applications being used in an organization. Most of the organizations use systems to capture and store business information while some organizations also use plain vanilla spreadsheets.
Most Dashboard tools run on a read-only mode and prefer storing data in a secure data source so that this data cannot be altered or tampered.
Another important question is whether you can access the data on your dashboard through emails and smart phones? Mr patel says that There have been innovations happening on this front, Business Dashboard tools like dMine have the capability of exporting the Dashboards and charts into PDF formats which is interactive so there are mouse over and mouse click events on the PDF file, thus retaining the experience of the browser even in the PDF file. This PDF file can be sent as an attachment in emails with the graphs and data bundled.
(With inputs from Mr Sanjay Patel, Director, dMine Business Dashboard www.dminedashboards.com)