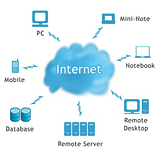 Finance, marketing and business development might be vital to a company's progress but another important element, on which these heavily depend yet one tends to ignore it is database. No matter how big or small a business is, its database is of immense importance. And so its storage becomes crucial.
Large companies have their own IT-platforms to store data but this comes with a heavy price tag and hence is unaffordable for the small and medium business ventures. So what must a small business do to take care of its data?
The solution to this is a simple and a cost effective technology called cloud computing. Cloud computing is a central storage infrastructure at a data centre, which provides storage facility on the Internet to various businesses. The user need not own this technology platform rather pay according to the usage. The word 'cloud' in the term 'Cloud Computing' refers to the Internet.
Using cloud computing is like renting a portion of storage space in the server rather than buying an expensive IT solution, which will include the cost of both software and hardware. This storage space is available in the server and stores the data in the Internet.
An IT analyst Amit Chaudhary from Aurego Software, says, "Cloud computing is already becoming a requirement for customers seeking to deploy IT solutions in almost every sector."
"IT vendors such as IBM, HP, Microsoft and Google swear by the cloud computing architecture. They say it will bring a new level of efficiency and economy to deliver IT resources on demand," Chaudhary adds.  
Some analysts state that the cloud computing market in India is expected to cross $1 billion soon. Given that Indians are so skeptical, in terms of adopting a new technology, this is an interesting figure and to some extent an evidence to its user-friendly nature.
The advantage of cloud computing is that it helps companies and end-users access solutions without having to invest in the computing system required to run that solution internally. It has already taken strong hold in the form of e-mails on gmail and hotmail accounts.
Another advantage of using the technology is that your data will be available on the Internet so you will be able to access it from anywhere. Cloud computing in the process of being widely used, will open up new business models and market opportunities.
Summing up the advantages of using the technology another IT analyst says, "If you want to slash your IT spending and wish to run your business from almost anywhere, then it's time to switch to the hot new IT trends: cloud computing. Most companies already use some tools such as Gmail, Hotmail and YouTube, which are all free examples of Software-as-a-service (SaaS) delivered via the cloud."
With Reliance Communication taking the lead, other players like IBM and Google are already in this arena. Yahoo, Microsoft and others also have plans to join the bandwagon.
Once you have subscribed to the technology, you have to follow a pay-per-use model for payment. "Cloud computing does not imply that one discards the entire existing infrastructure and embraces the cloud. One can complement the existing infrastructure with required parts from the cloud," says Chaudhary.
The solution is expected to gain maximum popularity among SMBs because of its cost effectiveness and efficiency. So why not take a plunge and explore the cloud!!