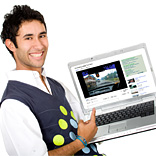 Ranjan, a taxi-driver based in Jaipur saw his business plummeting during the economic slowdown. There had been a sharp dip in the number of foreigners coming to the city. Even local inhabitants were not showing as much keenness on going about the city. The situation had left him high and dry when a friend advised him to use You Tube to revive his business.
The driver had little knowledge of the net, yet could speak a little English. His friend shot the video for him which advertised him as a reliable taxi driver who take you around the pink city. The video was posted on You Tube. Within a couple of weeks, 8 foreign tourists contacted him and 5 of them have turned out as good business for him. Yo! Ranjan finds it an out of the world experience. He went on to open an account on Yahoo and regularly spends a couple of hours on the internet. His mail box is inundated with hundreds of mails from foreign travelers looking for his services. Now he has also started a blog and writes about different attractions of the entire state of Rajasthan. That's the power of You Tube!
For a relatively small investment, businesses can create and upload videos to You Tube that can reach a far greater audience than virtually any other kind of marketing platform. Its time you discovered the potential of this wonder broadcast medium which attracts around 100 million audience everyday, viewing the wide array of videos. Businesses, small and big have already begun to post video content on You Tube for breaking out company news, employee orientation, launching a new product etc. My article helps you with the hows.
Advantage You Tube- How to leverage this platform?
1. Advertise Your Products and Services
'The Man Your Man Could Smell like Old Spice advertisement' has been viewed over 19 million times on You Tube. This ad campaign resulted in sales of Old Spice body wash jump by 107%, all in a months time. Creatively shot videos can get huge attention for your company and result in major spurt in sales. YouTube's company channels allow businesses to post all of their television advertising, product demonstrations, vlogs (video blogs) and other key information about the company.
2. Establish your Leadership
Every business is built around an expertise. Why not share it with the world. A video can get the message across much more effectively than an article or a blog post. You can create a buzz about what you specialize in, say 'below the line marketing' by posting videos of your executives discussing 'below the line marketing' and post the video on You tube. Else say the CEO who is a branding expert was invited to deliver a presentation on 'branding for small businesses' in a conference. A video can be shot and posted. Such videos can work wonders, establishing your company and employees as thought leaders and experts in their area of expertise. Similarly, if an entrepreneur is from the healthcare sector, he can discuss 'measures to control the dengue outbreak in the city.'
How to do it-
Create video profiles of your key executives.
 Video a formal interview with your key employees and experts.
Post videos of your key employees giving presentations or speeches at important forums, industry meets or press conferences.
 4.      Hiring and Training Tool
You can use You Tube to assist you in hiring and training. The first step in any hiring is writing the company description and standardised job descriptions for potential hires. Videos, on the other hand can give your potential hires a much better feel and understanding of the responsibilities at work and your work culture, company policies etc.
The following can be inputs for a video series that can be shot for assisting you in hiring.
Provide insights into the company culture
Demonstrate the competence of your existing employees and quality standards
Give a feel of the work culture.
Illustrate the process how particular jobs are done, say, how to generate leads for product sales?
After the employee is hired, videos can help conduct employee orientation services such as:
Orienting the employee towards company history, mission and vision of the company and management structure.
Providing orientation towards HR policies, employee benefits etc.
Orientation on company expectations (work hours, dress code, responsibilities, reporting structure etc.
 4.      Breaking Company News
As a normal practice, companies share all recent occurings in the company like product launch, merger, turnover achieved  etc. by distributing press releases to attract media attention. Posting related videos on You Tube can help your company news come alive and also to reach out to a larger audience. Imagine the difference-sending a press release for the appointment of a new CEO and putting up a video showing the CEO speak at his first press conference. Else, say announcing a new product launch or showing a video with the product in action. You can imagine those product views turning into buyers.
5.      Provide Customer Service
Once you have launched your product on You Tube and turned the product views to buyers, the next step can be to help your customers use your product correctly or troubleshoot problems your buyers may be having with the product.  A video is a far friendlier medium than a thick  instruction manual.