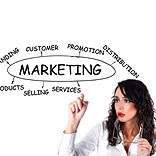 More than ever before, small businesses need new ways to leverage their competitive advantage. Long gone are the days when spending money on advertising and marketing provided that advantage. The secret to success these days is working smarter and innovating from within the organization, well before you think of shelling out cash for a marketing campaign.
Small businesses which are prone to running dry on cash can implement practical strategies that can make immense impact on customer loyalty, purchase frequency and referrals. These strategies would require you to just eke out some dedicated time, rather than spending money.
Marketing Vs branding
Most small businesses confuse marketing with branding, considering them as similar practices. When it comes to growing your business, knowing the exact difference of these terms can greatly impact you business.
The simplest definition of marketing is, 'It is the process of communicating a message.' The marketing function entails using all creative means to effectively send across information on your product to your target market, i.e through videos, public relations activities,   advertisements, newspapers, social networking sites, etc.
Branding on the other hand is the internal definition and implementation of the message. It is about how the company internally understands and perceives of its own brand. Thus logically, branding as an exercise should be done much before marketing. However, most small business, in a hurry to get the word out in the market, start doling out money for marketing campaigns, much before they have internally defined the brand. Does it make sense to market a product even before you have defined it?
Small businesses need to take out time to define in clear terms how they perceive of the brand and then align the company's behaviors, processes and actions to the marketing campaign message. Failing to do this, would mean failure to match customer expectations arising out of the marketing message. It can confuse and even frustrate your customer and result in dismissing his buying decision.
If your staff is not informed of the marketing message that goes for the product, they will fail to deliver according to what was promised in marketing efforts. This would be a sheer wastage of the expenditure incurred on marketing campaigns.
Consistent customer experience
Once you have defined your brand's DNA, you will have set the guidelines for your employees to deliver your brand-experience correctly to your customers. However you have to wary of creating an experience, just for the sake of experience.  
Elevate your customer experience by identifying and applying your brand's style attributes to the customer experience environment. The unique experience you are offering your customers should be in consonance with, relevant and consistent with your brand. Your customer should be able to relate the experience to your products and services and brand style. In an entirety, the experience should make sense for customers to remember and recall it as a positive experience.  Say, if 'creativity' and 'innovation' are the hallmarks of your brand, make sure the customer experiences them. Think through each and every customer touch-point and evaluate whether these adjectives come to life through the experiences.  
A few tips:  
1. Take the time to dig deep and define your brand's DNA (Dimensional Nucleic Assets).
2. Involve your employees in the brand-definition process. Clearly communicate the perception you want your brand to have and then design customer experiences to maximize the perception.
3. Outline every area your brand touches your customer, i.e, email, website, phone, invoices, proposals, etc. Devise strategies to rightly communicate your brand experience to the customer. Implement a customer touch-point audit to check whether your efforts are really fructifying.
 Many of these solutions do not cost anything – just time and attention, but can    have significant impact on your customers' perceptions of your brand.