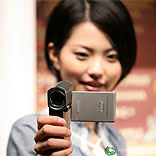 The sum of all forms of video (TV, VoD, Internet video, and P2P) will exceed 90 per cent of global consumer IP traffic, says the Cisco's Visual Networking Index (VNI) Forecast. Does that ring a bell? As an entrepreneur it should. Such forecasts are of extreme importance to you, and can act as a decisive factor in your marketing and promotional strategy.
Videos certainly strike a chord
The forecast says that mobile data traffic will roughly double each year from 2008 to 2013, increasing 66 times between 2008 and 2013. Also, almost 64 per cent of the world's mobile data traffic will be video in 2013. In fact, mobile video is the fastest-growing application category measured within the Cisco VNI.
Now if videos are what people are watching or will be watching you should make your presence felt there. You need not go to an expert and shell out several thousand bucks on this, a home made video can strike a chord as much as the one produced by an expert.
YouTube has been increasingly used for video marketing by companies. And since it gets 25 million unique visitors it can be a useful platform to market your product/service.
You can also have videos for you company's website. Adding videos to your company website will increase traffic as well as time on the site.
All you need to do is create a video that will keep people hooked to it.
The video content
Stay away from creating a video which directly sells your product. Rather talk about the necessity or the pain point of the consumer. Talk about solutions to these pain points.
To get an idea about what kind of videos are most watched, search for the most watched videos related to your topic.
You should also tag your videos with the best keywords. Remember keywords are important; the best of videos will be ineffective if it does not appear on the search list.
Your efforts should not stop at just making a good video. You must ensure that people watch it. For this you need to be active on the video interface. Watch other videos related to the same topic; comment on them; post the link to your video at apt places; be interactive.
Try persuading people who watch your videos to visit your website. Again this should be done intelligently and subtly. You may seek an expert opinion in case you are confused regarding video production.
Making a video is an art you can acquire without a formal training. There are videos everywhere you can learn from, Ads on TV, on the Internet. Be a little attentive and acquire the skill. It might take your business to great heights!