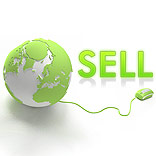 What is e-commerce?
Trading your product or service in an online environment is called e-commerce. Buyers and sellers interact through the Internet. Sellers display their products on the online platform and buyers choose according to their needs. With the increasing access to the Internet this has become a popular mode of trading worldwide.
Benefits of e-commerce for small businesses:
It gives you a platform to sell: There are numerous product ideas that can be converted into viable products but due to lack of infrastructure they are not able to reach the market. People with product ideas and skill sets to manufacture those products often do not have enough infrastructures to sell them. In such cases, online markets can come to their aide.
Gives visibility anywhere, anytime: Talking about the benefits of e-commerce for small businesses, Mr Brian Wong, Head-Global Sales at Alibaba.com, a popular online marketplace says, "Online trading platforms provide small businesses a one-stop shop for making global sourcing available 24/7 and removing barriers of geographies and time zones."
More customers Visibility for longer period of time means more customers. Mr Anil Hinduja, an entrepreneur who manufactures both high-end and low-end shawls and scarves utilizes e-commerce sites to sell them, says, "Online platform gives an advantage of unlimited product display, selling leads and trade alerts. We spend an hour a day online. That helps us generate 20 genuine inquiries in a month. On an average, I receive orders worth USD 50,000 regularly, online. About 10 per cent of the total inquiries mature. We have joined hands with loyal buyers also."
Sharing of experience: Online platforms like Alibaba.com have communities which help traders in identifying potential trading partners, sharing trading experience and interacting with each other to conduct business online. It also helps one understand the customers better. Sharing experience will help you in improvising on your products as well as in understanding your target customer.
Easy to use: Using an e-commerce site is as easy as using a social networking site. All you have to do is register as a seller, a buyer or both and start trading. There are two kinds of registrations, paid and unpaid. The facilities that each of them provide vary, so choose one according to your needs.
Are you worried about the low Internet penetration in the country?
Most of the products traded through e-commerce sites are targeted at foreign buyers or NRIs. Even in India e-commerce is gaining roots not just in metros but in small towns like Jamnagar and Bhavnagar too.
The statistics of number of registrations on popular e-commerce sites is also heartening. While eBay has around 3 million Indian users, statistics from Alibaba.com are equally encouraging. "We added about 3.9 lakh registered users from all across India in the past year to reach 11.2 lakh, as of, September 30, 2009, which is a year-on-year increase of more than 50 per cent," says Mr Wong.
Popular products on e-commerce sites
The most popular products traded through e-commerce are:
Indian lifestyle items such as jewelry, apparel, home decor etc (in foreign market)
Among the domestic buyers technology products like Telecommunications (iPhones), computer hardware and software (pen-drives) are most popular
Timepieces and eyewear are also in the list
E-commerce is still at an early stage of development in India. But as Internet becomes more accessible across the nation, it will be in greater demand by SMEs and not to forget, the customers.